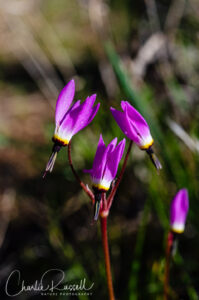 The Mount Tamalpais area has a wide variety of hiking trails where you can find wildflowers, and one of our favorites is the Matt Davis trail. Usually we do an out-and-back hike that is a bit over 3 miles, without a lot of elevation change, but you have options to go farther. In addition to the wildflowers there are some great views from "bare knoll" at our turnaround point.
The Flowers
Here's a sample of a few of my favorites from this hike (click on the image to see a larger view).
Hound's tongue is a common early season wildflower in Northern California. This was blooming in abundance all along the wooded sections of the trail. I've never seen so many in bloom on one hike!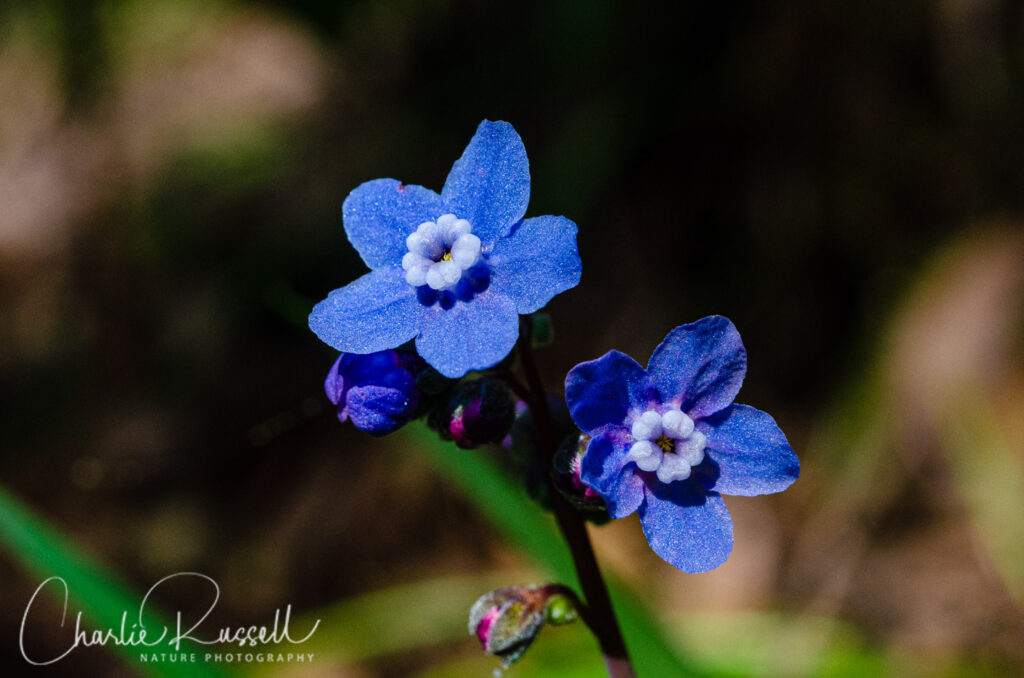 California Dutchman's pipe is one of the stranger flowers you'll find. We came across just one plant along the trail.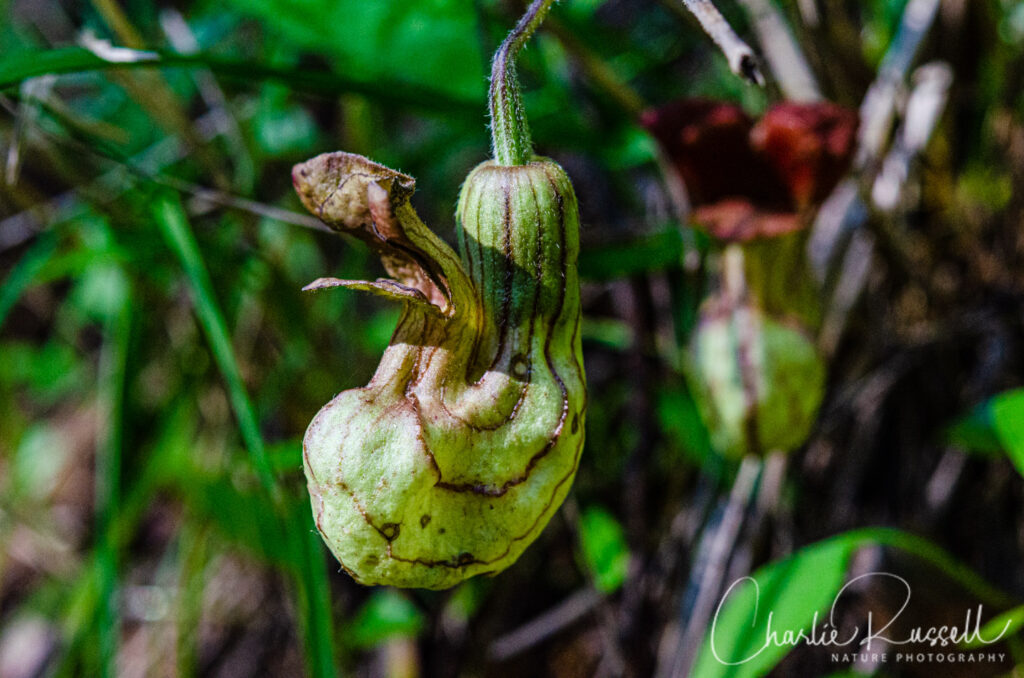 At the end of this hike there is a side spur that takes you off of the trail to what is called the "bare knoll". I highly recommend going out there, because the views are fantastic. Also, if you go just over the crest, you will often find one or two kinds of Iris in bloom. On this visit there was only one species that I could find, Bowltube iris (it can be hard to distinguish this from the very similar Douglas iris).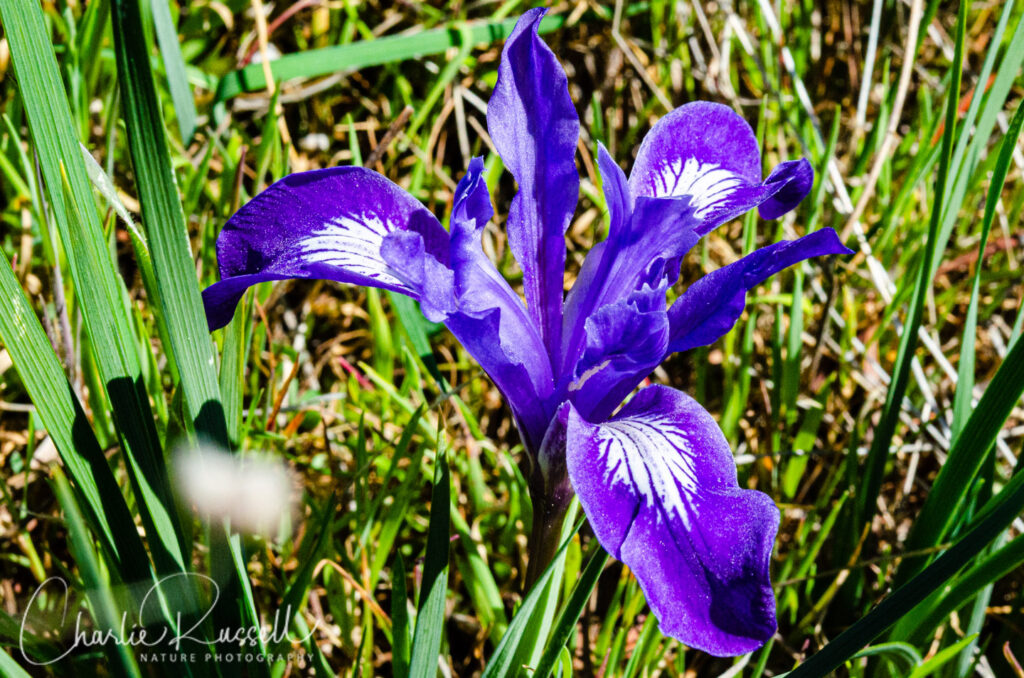 Hound's tongue may have been the most impressive flower on the hike (so many!), but the real star for us was the Calypso orchid. This can be hard to find. Usually it is found along the trail in the darker, shaded oak woodland. This time my wife spotted one small clump very close to the trail head (tucked in a patch of poison oak).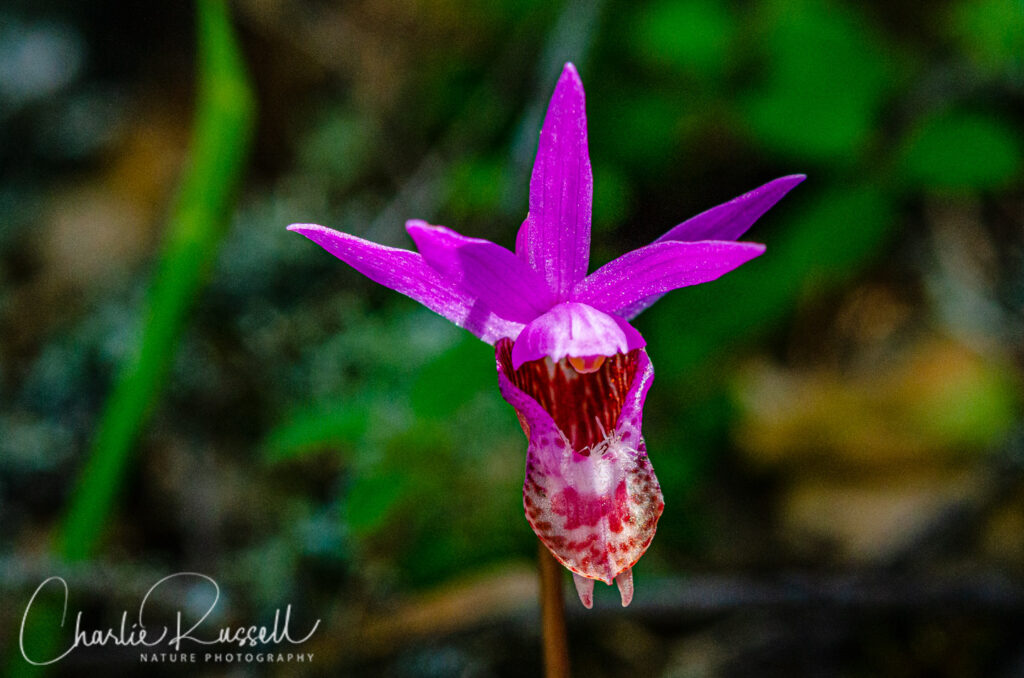 If you click on lightbox image below you will be able to scroll through all of the plants (and other things) that we found on this hike. All photos are available for purchase in a variety of formats.
The Hike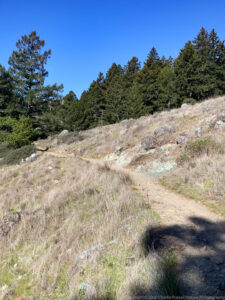 This hike can be as long or as short as you want. It is an out-and-back hike, and we usually make it a 3.2 mile round trip. This makes it a fairly easy hike with very little elevation change (only about 300′). If you want more, you can continue on the trail all the way down to Stinson Beach, but that makes it a 6.5 mile hike with over 1700′ of elevation change. You also can make this a loop that takes you on the Steep Ravine trail, which makes in 7.4 miles.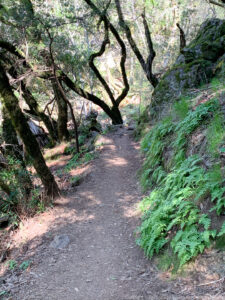 On the track we took, most of the hike is in shady oak woodland. Lots of ferns, and wildflowers are scattered along the way. There can be some very small streams to cross, but unless it has just rained you won't get wet or muddy. Some sections can be a bit rough, with lots of roots and rocks to trip you up. But since it is relatively level, it isn't too difficult.
Near the end you'll come out into open grassy hillsides where you get a completely different set of wildflowers. On a prior trip a few years ago there were masses of Sky lupine here, but this time there were only a few.
At the end, near a trail junction, head off to the left and up the "bare knoll", where you get some fantastic views (and you can find a patch of iris). We could see San Francisco one direction, Bolinas in another, and even the Farallon islands!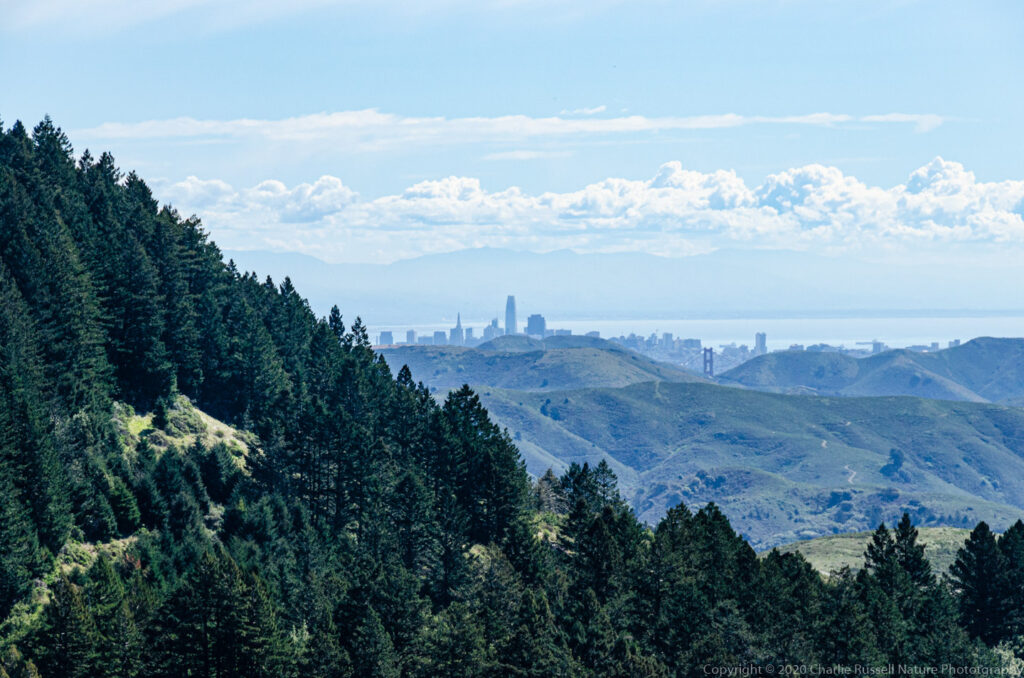 Here's the track that we followed:
Profile
Minimum elevation:
No data
Maximum elevation:
No data
Duration:
No data
Move your mouse along the elevation graph to show the location on the map. The Refresh icon will re-center the map. The Expand icon will expand to full screen.
Directions
From Highway 101 take exit 445B and head west on Highway 1. Note that about 0.8 mile from 101 you have to take a sharp left turn at a traffic signal to stay on Highway 1 (Shoreline highway). About 2.6 miles there is a Y, you want to turn right onto Panorama Highway (this is still Highway 1). After 0.8 miles you come to the "four corners" area (as a side hike, park there, hike into Homestead Valley). You want to continue on Panoramic Highway, which is the center of the three options. From this intersection it is another 4.5 miles until you get to the Pantoll Campground, on your left. Park here.
On weekends this can be a crowded parking lot. We visited on a weekday and parking was no problem. This is the trail head for multiple hikes. Note that there is an $8 fee per car. There also is a very nice restroom with running water.
The trailhead is just across the highway from the parking lot. This is the middle of the Matt Davis trail, so you want to take the left (west) option towards Stinson Beach.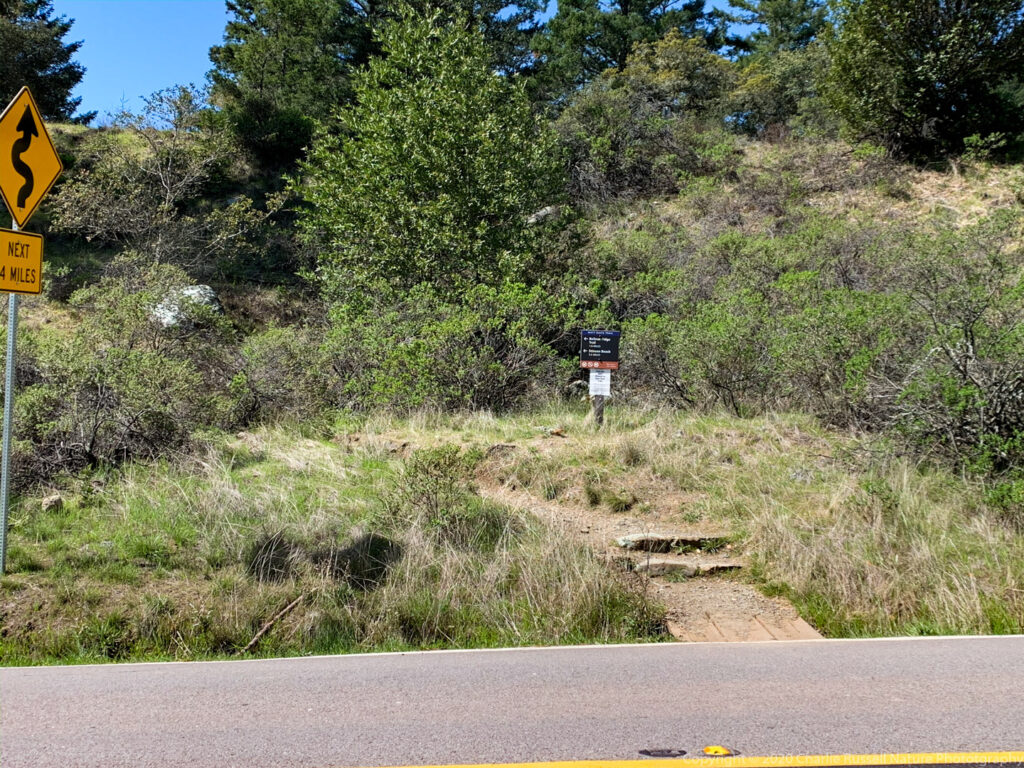 Timing is Everything
This visit was in mid March 2020 and the weather was wonderful. Upper 60's, clear and dry. We've also visited here in late April several years ago (see my Matt Davis Trail article) with warmer but still very nice weather. This area has a long wildflower season, and this close to the ocean the weather tends to be moderate for a long period of time. Just keep an eye on the rain forecast, because it can get a bit drippy sometimes. If you have a chance to visit on a weekday you'll find it easier to find good parking.
Mt Tamalpais Wildflowers Listing
Here's a listing of the native plants that we found on this visit. The ones listed in color are endemic to California (that is, found only in California). "nif" means "not in flower". "Calflora" will be a link to the Calflora page for this plant.
American vetch, Vicia americana ssp. americana                Calflora

Bowltube iris, Iris macrosiphon 

                                       Calflora
Buck brush, Ceanothus cuneatus var. ramulosus
California buttercup, Ranunculus californicus                      Calflora

California Dutchman's pipe, Aristolochia californica

             Calflora
California man-root, Marah fabacea                                   Calflora
California poppy, Eschscholzia californica                           Calflora
Ceanothus sp.
Common lomatium, Lomatium utriculatum                        Calflora
Douglas fir, Pseudotsuga menziesii                                    Calflora
Fairy slipper, Calypso bulbosa var. occidentalis                   Calflora
Feathery false lily of the valley, Maianthemum racemosum  Calflora
Fremont's death camas, Toxicoscordion fremontii               Calflora
Milk maids, Cardamine californica                                     Calflora
Mosquito bill, Primula hendersonii                                     Calflora
Pacific hound's tongue, Cynoglossum grande                     Calflora
Poison oak, Toxicodendron diversilobum (nif)                     Calflora
Lupinus nanus, Lupinus nanus                                          Calflora
Wavyleaf soap plant, Chlorogalum pomeridianum  (nif)      Calflora
Western blue eyed grass, Sisyrinchium bellum                   Calflora
The following are non-native species found on this hike:
Bermuda buttercup, Oxalis pes-caprae
We also found the following:
Beard lichen, Usnea sp.
Dendroalsia moss, Dendroalsia abietina                             Calflora
False Turkey-Tail , Stereum hirsutum                                 Mykoweb
Giant chain fern, Woodwardia fimbriata                             Calflora
Lung Lichen, Lobaria sp.
Moss, Family Hypnaceae
Pine Bracket, Porodaedalea pini                                        Mushroomexpert
Polypodium sp. fern
Shield lichen, Family Parmeliaceae
Tiger Moth, Tribe Arctiini
Western sword fern, Polystichum munitum                        Calflora
Margined White, Pieris marginalis butterfly
Western Fence Lizard, Sceloporus occidentalis