Mt. Tamalpais State Park in Marin County is the center point for an incredible network of trails. You can spend years trying all the options in the park and the surrounding countryside. There are great views of the Pacific Ocean and San Francisco Bay from the top of the mountain (2571 ft elevation).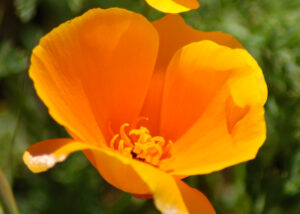 You can find everything from redwood groves (in nearby Muir Woods) to beaches to hillside hikes. This time we hiked on the Matt Davis Trail in April 2010.
Note: Click on any photograph to see a larger image
The Hike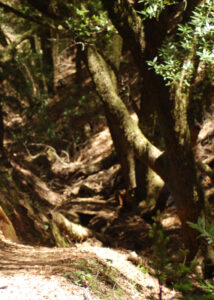 The trail starts at the Pantoll Ranger Station on Panoramic Highway, with a starting elevation of around 1500 feet. You can hike for as long as you want – the trail goes all the way to the Stinson Beach area, with a round trip of about 7.5 miles. This time we took a 3.3 mile round trip, stopping at an outlook with a great view of the ocean. This shorter trip is easy, with only minor elevation changes.
You start off in the forest, along an easy shaded trail with the scent of bay leaves. There are several small streams that are easy to cross. Keep a sharp eye out, as there are hidden gems off the side of the path that are easy to miss. Even though things were starting to dry out, I found several different species of orchids (very exciting!).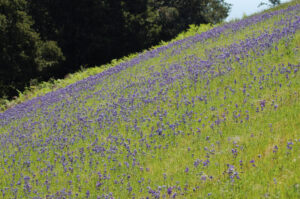 After a mile or so you come out of the woods to open grassy hillsides. If you time it right, you will find vast fields of Sky Lupine, with many other flowers mixed in.
At about 1.6 miles out there is an unmarked spur trail on your left, which climbs up to a knoll (only about 60 feet away). There is a wonderful view of the ocean, but be sure to look around you closely as there are quite a few different varieties of flowers in this exposed area. We found several varieties of Iris here.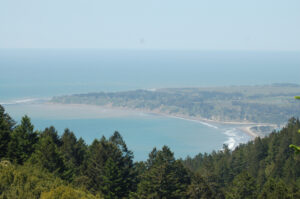 If you reach the junction with the Coastal trail you have just passed the spot.
This is the point where we turned around. You are at just about the same elevation as the start of the trail. If you go further on you either drop down to the beach fairly quickly (with a somewhat strenuous return hike), or you can continue on the coastal trail through the open grassy hillsides (which has fewer flowers).
This is a very popular area all year round, so don't expect to be on your own.
This is hike #3 in my favorite hiking guide, Hooked on Hiking: Northern California
.
Timing is Everything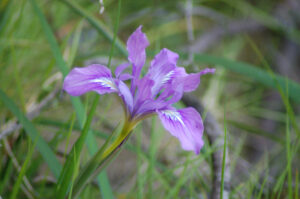 Although you are near the ocean, this area can dry out early in the spring. We visited this trail in late April, and we were already getting into the drier side of the wildflower season. We had a warm, sunny day and were happy to be in the shade for a large part of the hike. We still found some orchids and iris, but the lupines and poppies were taking over.
Directions
The trailhead is at the Pantoll Ranger Station. From US 101 take the Mill Valley/Stinson Beach / Highway 1 exit. Drive 1.0 mile to Shoreline Highway and turn left. After 2.5 miles turn right onto Panoramic Highway. Go 0.9 mile until an intersection and take the straight road. Continue on Panoramic Highway for 4.3 miles until you reach the ranger station.
On weekends you may have a very hard time finding parking here. There are several side roads where you may find wide spots to park. Multiple trails start from this point. If the ranger station is open, have them point out the right trail. We found it across the highway (very busy!) and up some steps, heading northwest.
We ended up parking on a wide spot a quarter mile up Pantoll Road.
Matt Davis Trail Wildflowers
Please feel free to correct any identification errors I may make. Click on any photograph to see a larger image. I'll start with a few favorites, and then the "gallery". All pictures were taken with a Nikkor 18-135mm zoom lens
. As usual, I didn't take a tripod, which was a mistake. Many of the flowers were in fairly deep shade, and it was a bit breezy out on the open hillsides, so I'll apologize for the shaky quality.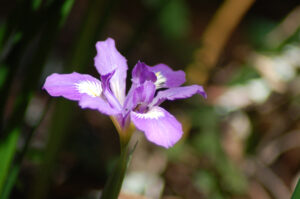 Iris can be a bit tricky to identify properly, and there can be quite a few color variations within one species. There were quite a few Iris on this trip.
We almost didn't see the Fairy Slipper (also called the Calypso Orchid). They were a bit past their prime, and were off the path in shaded areas. I was really excited to find them.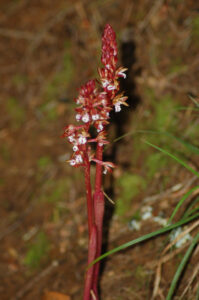 This is another orchid, but I didn't realize it at the time I took the picture. Just one plant, in a place that was a bit hard to reach, so the picture isn't the clearest. I've never come across this one before. If I had realized what I'd found, I would have spent more time with it. I'm always amazed that you can find orchids out in the forest, not just in someone's hothouse.
If you click on the lightbox image below you will see larger versions of the photos, and you can scroll through all of the plants (and other things) that we found on this hike. All photos are available for purchase in a variety of formats.