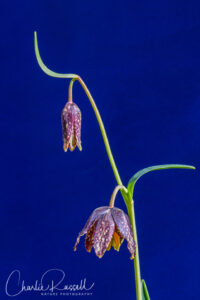 Olompali State Historic Park has an interesting history as well as an interesting hike that offers wildflowers, wonderful trees, and a wealth of ferns. Our loop hike in late February was very enjoyable, and we'll certainly be coming back again!
There is a long, interesting history for this location (which I will summarize). This is the site of what was believed to be one of the largest Coast Miwok villages in what is now Marin County. You can see why they chose this spot, as there are many very large California Bay and oak trees to provide shelter and food. Later this became the only land grant given by the Mexican government to a Native American (Camilo Ynitia) in northern Alta California. When the United States Government took possession of California from the Mexican government Ynitia sold the land to James Black, who later deeded the land to his daughter when she married Galen Burdell. The Burdell family turned Olompali into a working ranch, and many of the ranch buildings still exist. The family owned the property until 1943.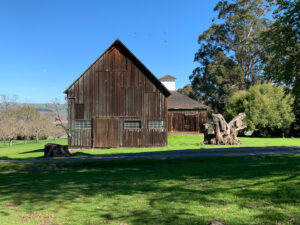 In subsequent years the property changed hands multiple times. It was used by the University of San Francisco as a retreat for its Jesuit priests. The Grateful Dead rock band lived there for a short time. Later it was a "hippie" commune. Eventually the State of California and Marin County purchased the land to preserve it as a state historic park.
The Flowers
Here's a sample of a few of my favorites from this hike (click on the image to see a larger view).
One of the brightest flowers we found was Mosquito bill (aka Henderson's shooting star). At first we thought we were too early for this, as we found many of them just starting to bud out. But as we continued on the trail to a more exposed section we found a very large number of them scattered along the trail under the manzanita.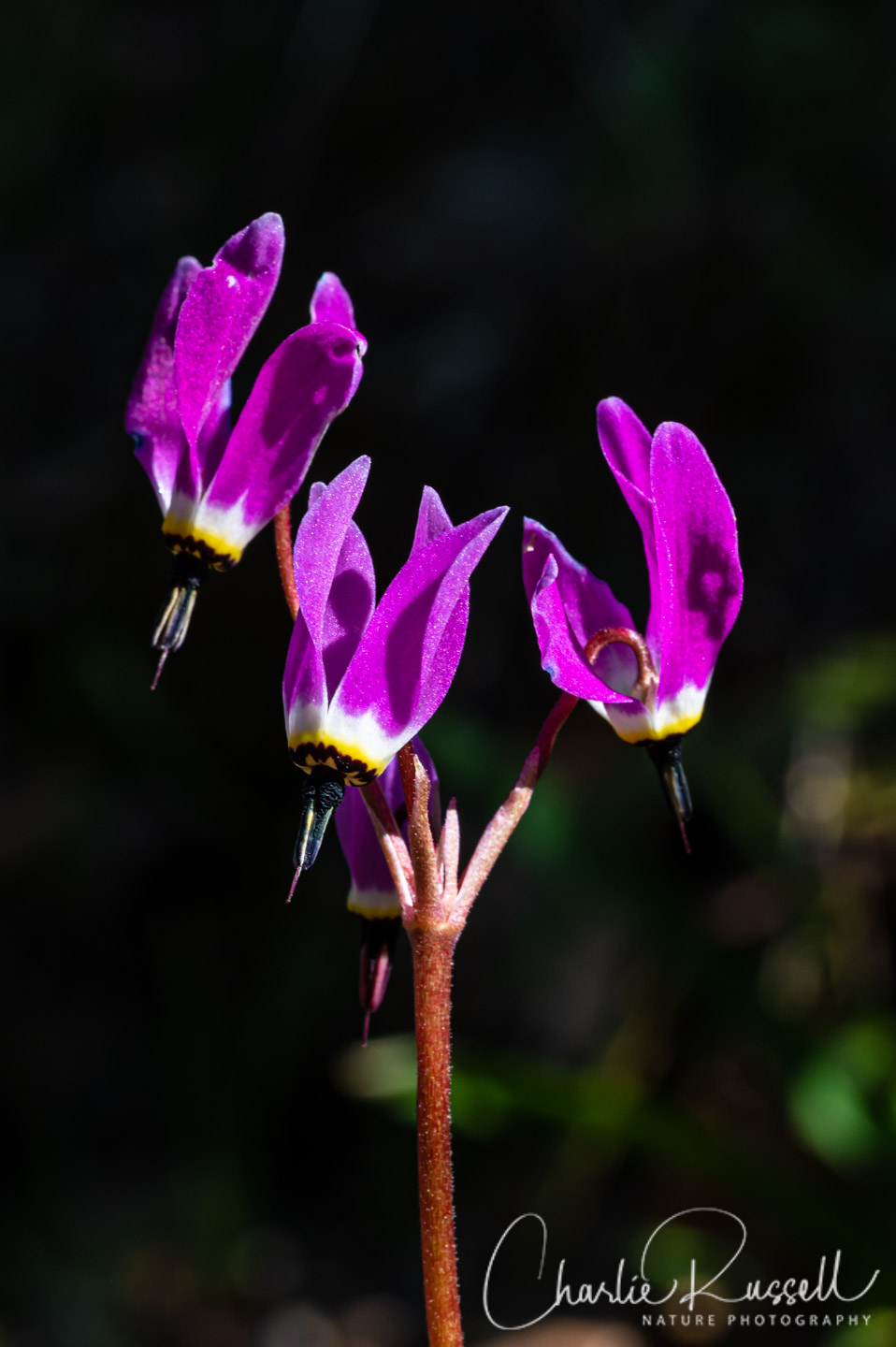 Similarly, we found many Checker lilies in bud on the higher part of the trail, but as we continued we found many of them fully open.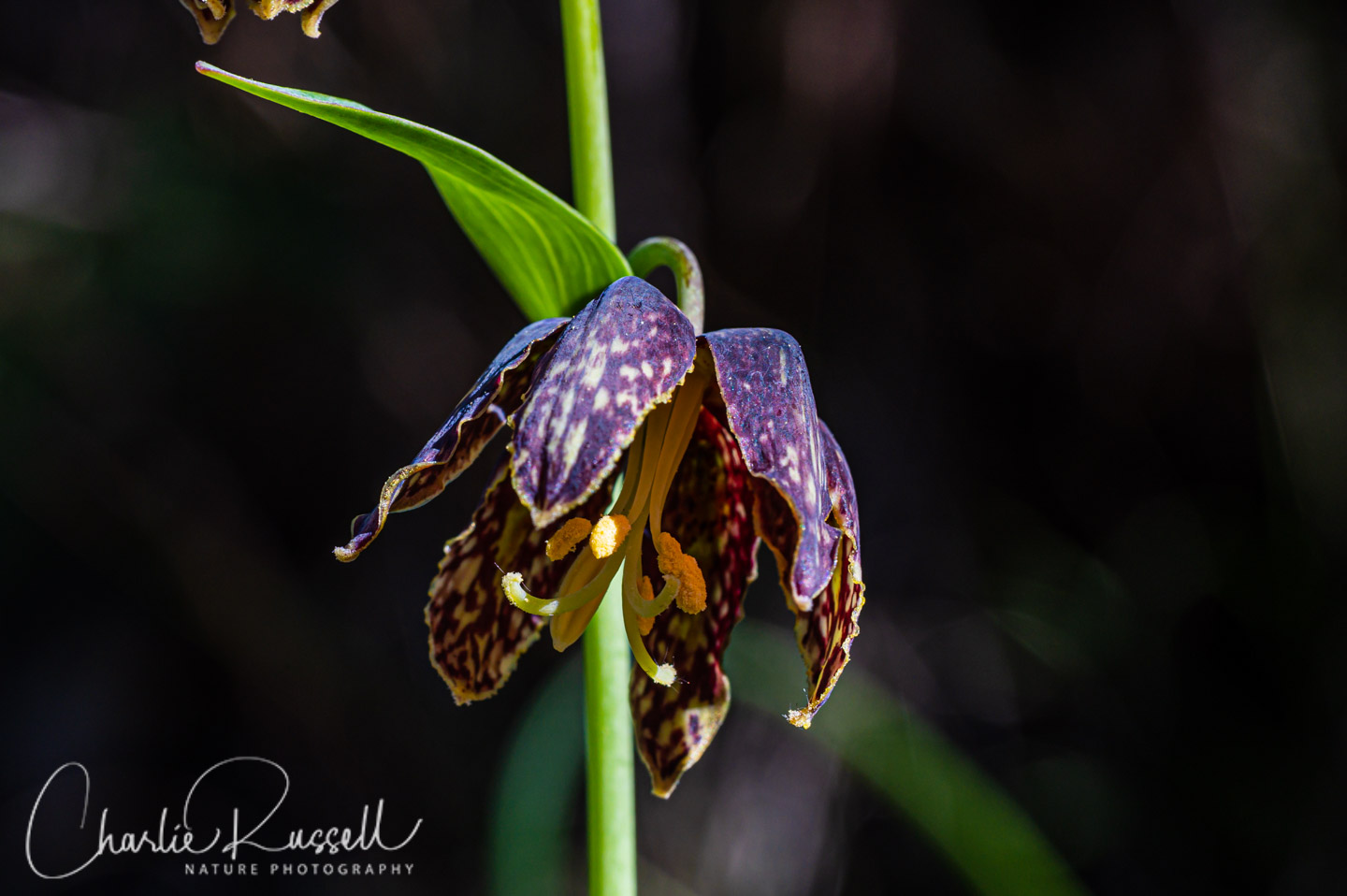 Probably the most common wildflower on this trail in late February is Milkmaids. This wildflower is usually found scattered across the hillsides in shady spots, which can make it a bit difficult to photograph. Fortunately, I found some that were highlighted by sunshine sneaking through the trees.
One of the things that struck us was the abundance and variety of native ferns along the trail. There were so many! On the downside, there is a very large amount of poison oak right along the trail, so be careful.
If you click on lightbox image below you will see larger versions of the photos, and you can scroll through all of the plants (and other things) that we found on this hike. All photos are available for purchase in a variety of formats.
The Hike
This is a loop trail, about 4.5 miles. To get to the trail you will walk north from the parking lot through the historic buildings until you see a path that heads west up the hill. Note that a lot of the trees and most plants that you see in this area are not native to California, due to the ranch activity and extensive gardens that were planted by the Burdell family.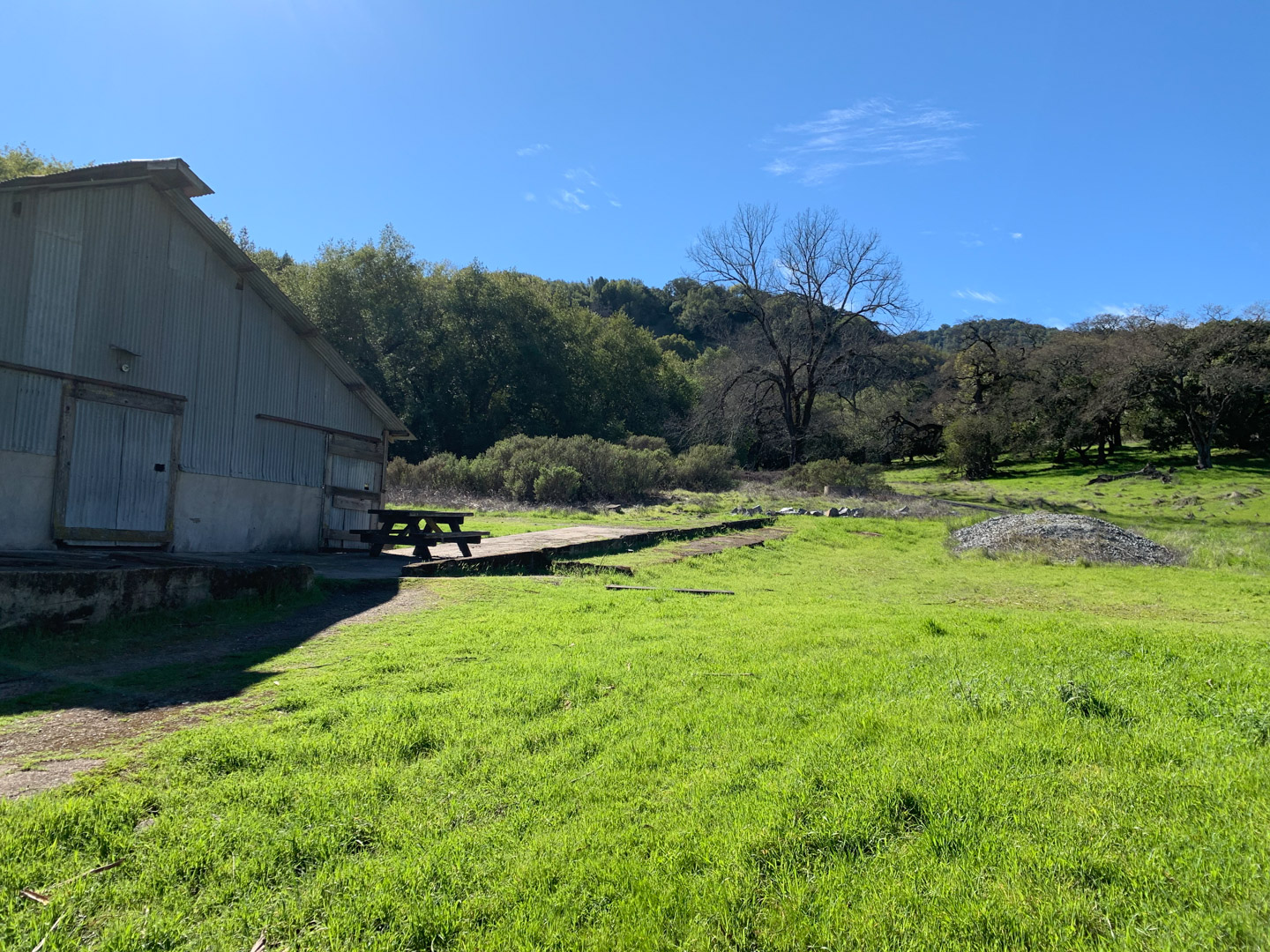 Heading uphill, the wide path passes the dairy barn. We continued straight up the hill. The trail loops around and returns to the dairy barn area.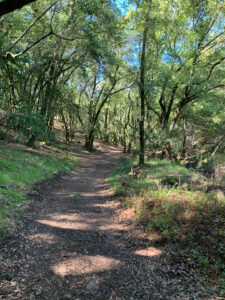 This part of the trail is a moderate slope that is well shaded. Along the lower portion we saw some of the largest examples of California buckeye that I've ever come across, as well as many other very old, large trees.
The wonderful shady sections heading up this hill, as well as when things level out and you traverse the slope, offer a wonderful variety of ferns (and, this early, mushrooms).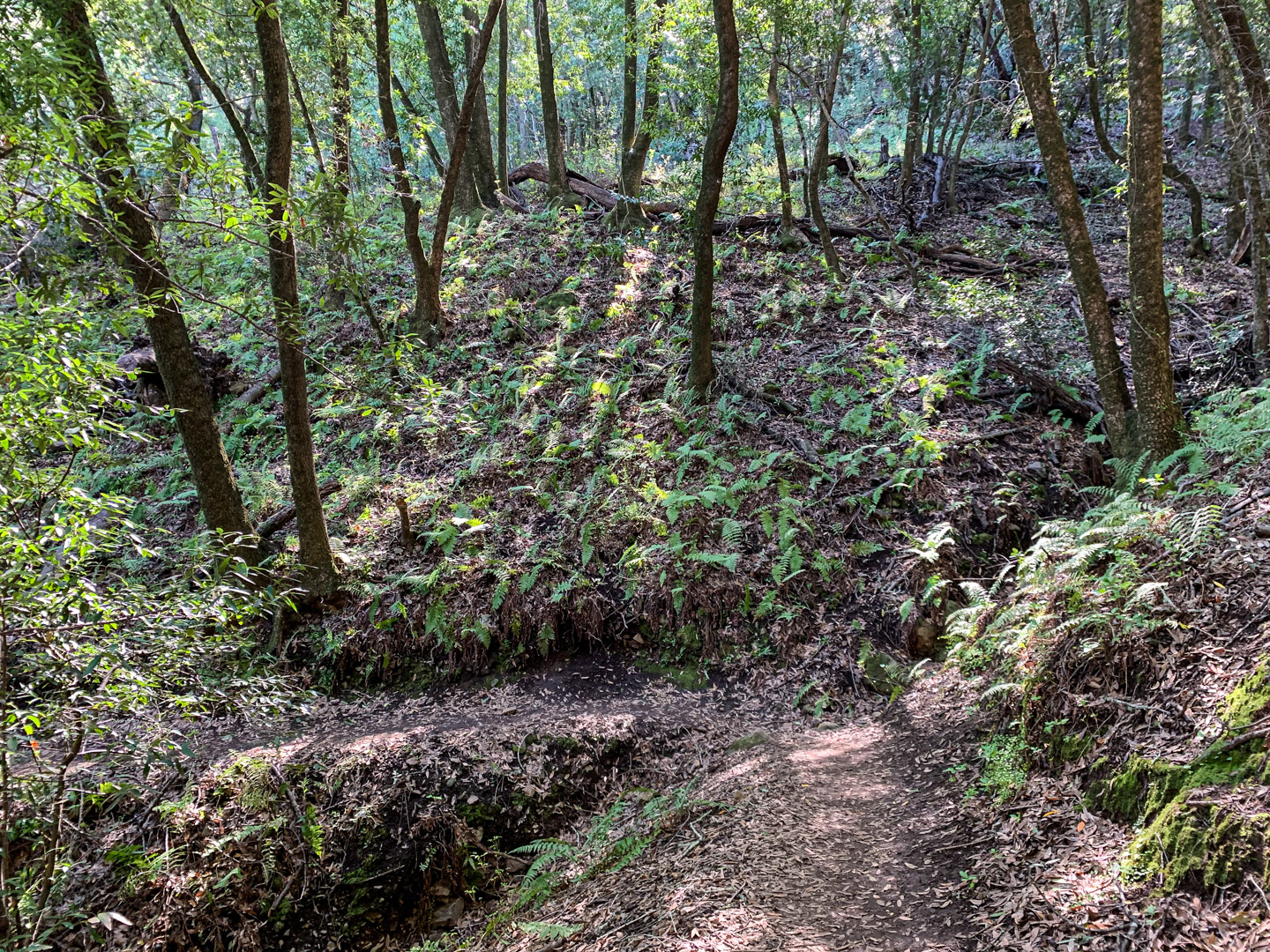 Eventually the trail moves to a more exposed open woodland hillside. This is the area where we started to find more flowers that were actually in bloom (other than the Milkmaids that were blooming at every point).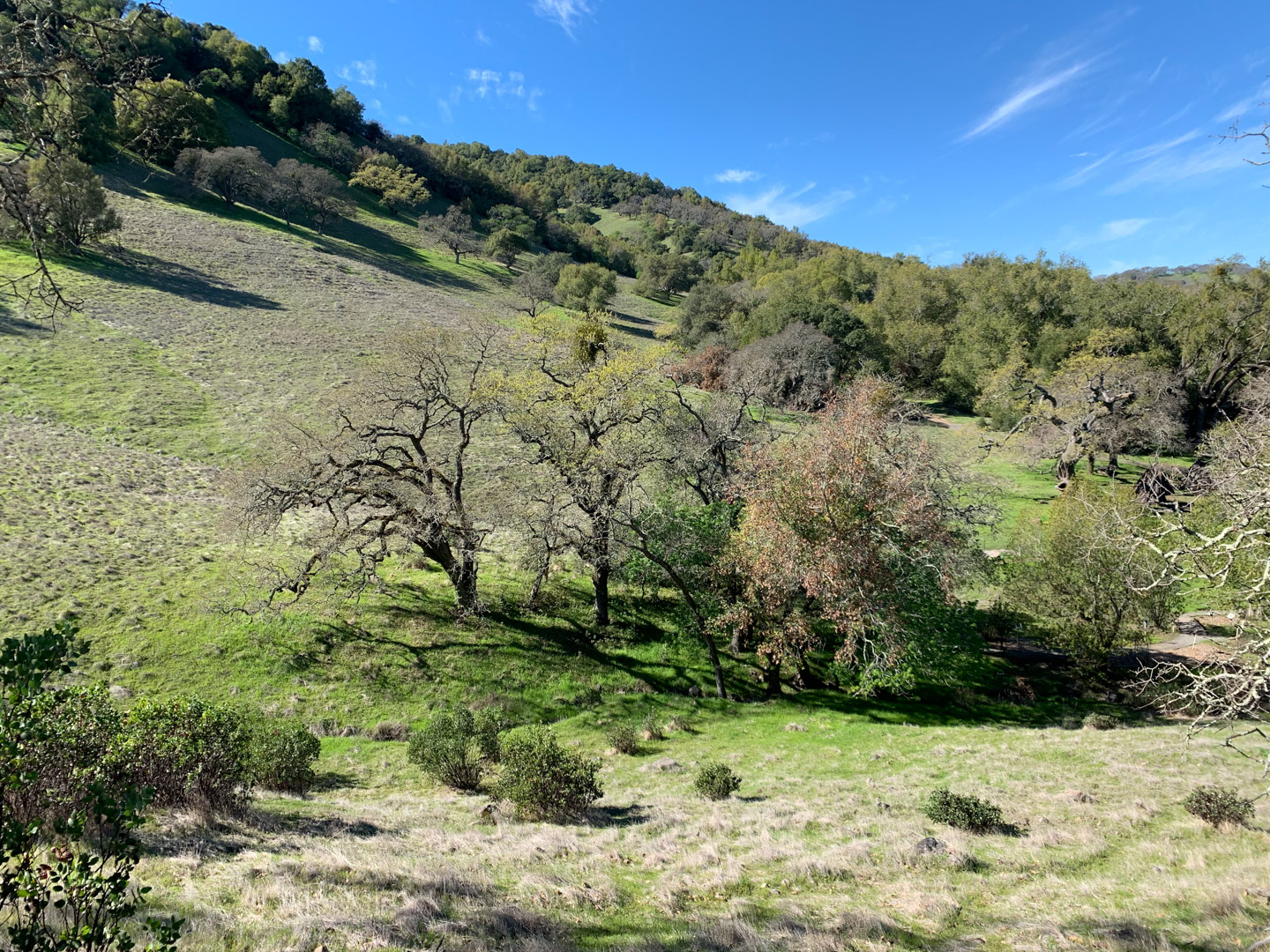 Note that if you want a longer hike you can continue further up the hill to where Olompali State Historic Park connects with another wonderful wildflower spot, the Mount Burdell Open Space Preserve.
Bikes and dogs are not allowed on the trail, but they are used by equestrians.
Here's the track that we followed:
Profile
Minimum elevation:
No data
Maximum elevation:
No data
Duration:
No data
Move your mouse along the elevation graph to show the location on the map. The Refresh icon will re-center the map. The Expand icon will expand to full screen.
Directions
Olompali State Historic Park is in east Marin County, just off of Highway 101 north of Novato. If you are heading north on 101 you will take exit 463 (Atherton Avenue), cross to the opposite side of the freeway (west), and immediately turn right on Redwood Blvd. After a bit over 2 miles the road ends, with the entrance to the park on the left.
This is a California state park, so there is a day use fee of $8.00 per vehicle. You should bring cash, as the payment kiosk was not taking credit cards when we visited. Currently the park buildings are closed, but there are portable toilets by the parking lot.
Timing is Everything
This visit was in late February, on a wonderful clear day with temperatures in the low 60's. We were lucky to have such a nice day! The early season wildflowers were abundant (Milkmaids, shooting stars, checker lilies, and we could see that there were a lot of other plants that were just getting ready to bloom. I think that there will be a long good flower season here. Even when the weather is warmer, so much of the trail is under the shade of those magnificent trees, it should be a great hike.
Olompali State Historic Park Wildflower Listing
Here's a listing of the native plants that we found on this visit. I don't have pictures of all of these in the gallery, as many that I took are low resolution pictures using my phone camera (I use those for iNaturalist observations).
The ones listed in color are endemic to California (that is, found only in California). "nif" means "not in flower". In most cases the scientific name will be a link to a reference source such as Calflora.
Bedstraw, Gallium sp. (nif) Not sure if these were a native species
California bay, Umbellularia californica
California Black Oak, Quercus kelloggii (nif)
California buckeye, Aesculus californica (nif)
California buttercup, Ranunculus californicus
California maidenhair fern, Adiantum jordanii
California man-root, Marah fabacea
California Polypody, Polypodium californicum
Canyon nemophila Nemophila heterophylla (nif)
Checker Lily, Fritillaria affinis
Coast live oak, Quercus agrifolia (nif)
Coast sanicle, Sanicula laciniata
Coastal wood fern, Dryopteris arguta
Coffee fern,

Pellaea andromedifolia

Common Manzanita

, Arctostaphylos manzanita ssp. manzanita
Common Yarrow, Achillea millefolium (nif)
Coyote brush, Baccharis pilularis (nif)
Giant Chain Fern, Woodwardia fimbriata
Gold back fern, Pentagramma triangularis
Grand houndstongue, Cynoglossum grande (Adelinia grande)
Interior live oak, Quercus wislizeni (nif)
Lathyrus sp. (nif)

Leather oak

, Quercus durata var. durata (nif)
Milkmaids, Cardamine californica
Miner's lettuce, Claytonia perfoliata (nif)
Mosquito bill, Primula hendersonii
Pacific madrone, Arbutus menziesii
Pacific sanicle, Sanicula crassicaulis (nif)
Pacific woodrush, Luzula comosa
Pink honeysuckle, Lonicera hispidula (nif)
Poison oak, Toxicodendron diversilobum (nif)
Rough hedgenettle, Stachys rigida (nif)
Sticky monkeyflower (aka bush monkeyflower), Diplacus aurantiacus (nif)
Sweet cicely, Osmorhiza berteroi (nif)
Wavyleaf soap plant, Chlorogalum pomeridianum (nif)

Yellow carpet

, Blennosperma nanum var. nanum
The following are non-native plants that we found on the hike. Note that the lower portion of the park is a long-time residential area, and in the past there was an extensive garden stocked with plants brought over from Asia (and other parts of the world). So there are a great number of non-native exotic plants there. I did not catalog those, the non-natives I list here were ones found further up the trail in the oak woodland.
We also saw the following:
Common Greenshield Lichen, Flavoparmelia caperata
Dark-eyed Junco, Junco hyemalis
Gilled Polypore, Trametes betulina
Live Oak Erineum Mite, Aceria mackiei
Oyster Mushroom, Pleurotus ostreatus
Panaeolus antillarum
Pixie Cup Lichens, Cladonia sp.
Rock Shield Lichen, Xanthoparmelia sp.
Starwort, Asterella sp.
Trametes sp.
Wild Turkey, Meleagris gallopavo
Yellow Fieldcap, Bolbitius titubans