The Ring Mountain Open Space Preserve is a small area located in Marin County, just off highway 101 next to Tiburon. The main reason to hike here are the wonderful views of the San Francisco bay, but even in this drought year we were able to find a nice variety of spring wildflowers. This visit was in March of 2012, but we've hiked here many times since then.
Click on any photograph to see a larger image.
The Hike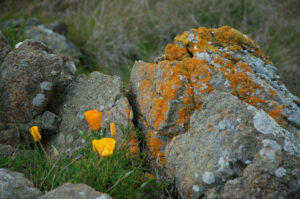 There are several trails and fire roads in the Ring Mountain Open Space Preserve, supporting a mixture of hikers, bicyclists and equestrians. The Phyllis Ellman trail, on the north side, is limited to hikers, and this is the route we took. For a detailed map of the Preserve see the Marin County Parks map for Ring Mountain.
I always like trails that start off going uphill and then finish with you coming down, and this fits that bill. The trail is a moderately strenuous hike from the bay up to the top of the mountain (Ring Mountain is only about 600 feet high), with wonderful views of the Bay to the north and south. Then you head back down. The area is criss-crossed by a large number of trail branches and loops, both marked and unmarked, so it can be confusing. It is easy to work things out, though – just keep going uphill until you get to the top! There aren't a lot of trees here so you won't lose your way.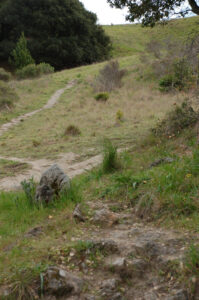 The trail goes up a fairly exposed hillside so it often is very windy – and it might get hot. There are a few clumps of trees along the way, but your hike will be out in the sun. Keep your eyes open, there can be flowers anywhere in the grass, by the rocks, along the stream. This year, with so little rainfall, the plants were low and sometimes hard to see.
There are so many wandering paths that it is hard to determine how long our hike was, but I'll guess that we went about 3 miles round trip. The views from the top are wonderful! San Rafael Bay and the Richmond-San Rafael bridge to the north. Richardson Bay and Sausalito to the south, with San Francisco off in the distance (if the fog and clouds cooperate).
Turtle Rock, at the top, is very popular for bouldering, and this also is a popular area for people walking their dogs. Don't expect to have it all to yourself.
Timing is Everything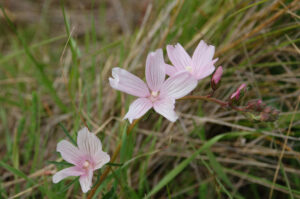 Since this is such an exposed area I would expect the wildflower season to be short, but this spot is very surprising! This visit was in the early part of March and there was a nice variety of flowers, but for the most part you had to look closely to find them. Other than the Buttercups, which were scattered all over the hillside. I wouldn't want to be out here in the middle of the day when the weather gets warmer, and I wouldn't want to be here if there was a lot of fog or low clouds to obscure the wonderful views. However, from later visits, I can attest that the wildflower season extends well into May, and there are some special wildflowers that only show late in the season.
Directions
From Highway 101 in Corte Madera, take the Paradise Drive /Tamalpais Drive exit east onto San Clemente Drive. This merges into Paradise Drive, which goes along the north edge of the Tiburon peninsula. Follow this about one mile. The trailhead is on the right just past Westward Drive. Park along the road – the shoulder is wide. There are no restroom facilities here.
Ring Mountain Wildflowers
Please feel free to help me with the identification of any "unidentified" flowers listed here, as well as correcting any errors I may make. Click on any photograph to see a larger image. I'll start with a few favorites, and then the "gallery". It was a windy day, which made it difficult to get pictures.
My favorite flower on this hike was the Oakland Mariposa Lily. Very low to the ground, a little larger than a quarter.
Fremont's Star Lily could be found tucked back against some clumps of trees. An alternate name is Fremont's Death Camas, as this is very toxic.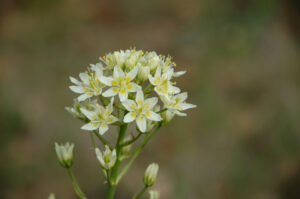 Shooting Stars are very delicate and don't last long, particularly with the wind. There is a seasonal stream, and we found them close to that.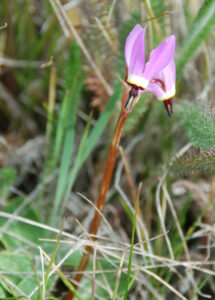 Iris were just starting to show, it looks like there may be quite a few later in the season.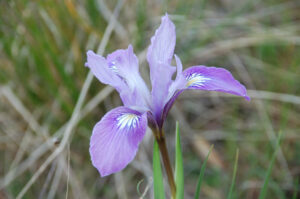 If you click on the lightbox image below you will see larger versions of the photos, and you can scroll through all of the plants (and other things) that we found on this hike. All photos are available for purchase in a variety of formats.