Sagehen Creek is a fun, easy hike in the Sierras near Truckee, with a nice variety of wildflowers. Even though the elevation is around 6100 feet, the trail is relatively flat. The creek itself is a lot of fun! We took our 6+ year old grandson on this hike, and he didn't have to ask to be carried (he really enjoyed the creek!).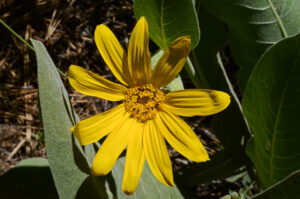 Note: Click on any photograph to see a larger image.
The Hike
The trailhead is on highway 89 just about 6 miles north of Highway 80 at Truckee. It isn't marked, but it was easy to find. This is an out-and-back trail, roughly 2.5 miles to a very large meadow at the edge of Stampede Reservoir (for a total of 5 miles). The total elevation change is probably just around 200 feet, so no climbing.
You start off in a cool section under the trees, at a small open riparian area right on the creek. When we visited (mid June) there was a good variety of wildflowers right along the trail, you didn't have to go far to find them. However, you should also take the opportunity to wander off of the trail to the side of the creek when you can – you'll find a different selection of flowers just a short distance off the trail. Besides – creeks are fun!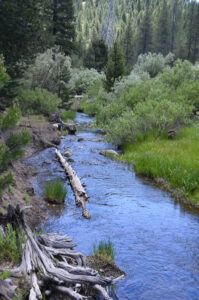 For the most part, the trail wanders in the general area of the creek. For most of the first mile or so you are in the forest, a collection of Lodgegole and Jeffrey pines, firs, and cedars. Occasionally you'll come to an area where the trees open up to let more light in. The trail is generally flat, with just a few scrambles on occasion.
Eventually the trail wanders further away from the creek and the forest is less dense, mostly Lodgepole pine, which means that it can get warmer on a sunny day. This area has a good display of bright yellow Mule Ears and Arrowleaf Balsamroot.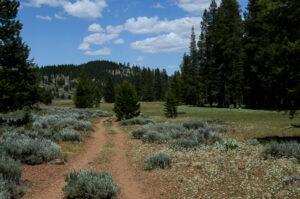 After about 2.5 miles (more or less) you come to the large meadow – grass and sagebrush. Some times of the year this area reportedly has a mass of purple Camas Lilies. We weren't lucky enough to time that right, but there were masses of purple Meadow Penstemon, which was quite attractive. It was warm enough (and there is NO shade on the meadow) and dry enough that we didn't go all the way across the meadow to the Stampede Reservoir. However, if you are counting the number of flower species you find, you need to spend time in the meadow! We found about 45 different species on the entire hike (although I've not identified them all yet), and we were probably past the peak flowering time.
Timing is Everything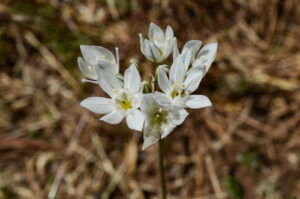 When is the peak flowering time? I'm not sure, and it probably varies every year. This is an odd year, with low snowfall and a dry, warm spring. The creek helps, as it keeps part of the area moist. This year we visited in mid June, and although we were probably past the peak we certainly found many different flowers. I could see evidence of a number of species that had bloomed earlier in the year.
Directions
Head towards Truckee on Highway 80. Take the Highway 89/Highway 267 exit (just east of Truckee) and head north towards Sierraville. Stay on Highway 89 (you'll go through two traffic circles close to Highway 80).
After about 7 miles you will cross a bridge over a small creek – this is Sagehen Creek, and the turnout is just past this bridge, on the east side. It's a small parking area. The trail starts here, to the east, right along the creek. Earlier in the year this is probably a muddy area, when there is more water in the creek. I would bring insect repellent, although on our June visit we didn't have a problem with mosquitoes at all.
There are no restroom facilities here.

Description
Sagehen Creek Trailhead
Sagehen Creek Wildflowers
Please feel free to help me with the identification of any "unidentified" flowers listed here, as well as correcting any errors I may make. Click on any photograph to see a larger image. I'll start with a few favorites, and then the "gallery". All pictures were taken with either a Nikkor 18-135mm zoom lens, or a Nikkor 60mm closeup lens.
This was a bit of a windy day, so a number of these pictures won't be as clear as I would like.
Meadow Penstemon was the most common flower on this hike. Lots of them at the start, lots of them in the big meadow at the end.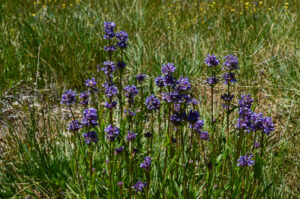 We were surprised to see quite a few Crimson Columbine all along the trail. They were smaller than usual, perhaps because of the odd weather this year.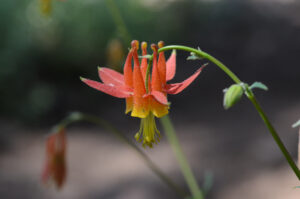 We also found quite a few Scarlet Gilia – also known as "Skyrocket".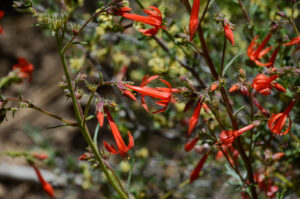 You have to get off the trail when you can, and along (and into) the creek. We found these Water Buttercup at just one spot, in the middle of the stream. The plant itself grows underwater, and then it pushes these blossoms to the surface. First time I've seen these.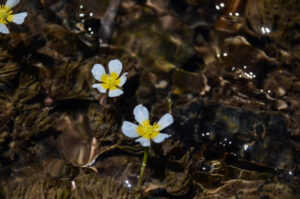 Woolly Mule Ears (shown at the top of this post) are very common here, but intermixed you'll see Arrowleaf Balsamroot, which looks very similar. The Mule Ears' leaves are fuzzy ("woolly") and spade shaped, while the Arrowleaf Balsamroot leaves are not as fuzzy but definitely arrow shaped.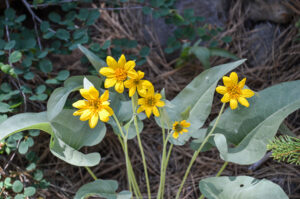 Small Flowers!
When you go on hikes in the higher elevations you need to bring your closeup lens. If you are in a hurry, you'll miss a lot, because many of the flowers are VERY small. You have to keep your eyes open. Each of these next several flowers are a quarter of an inch across or less, so I was spending a lot of time down on my knees. Smaller plants like this are harder to identify, sometimes.