OK, it sounds odd, "Paradise" and "Barrens" together? Well, "Paradise" in this case is the town of Paradise, near Chico, and the "Serpentine Barrens" is an interesting trail just past the town. So, the Paradise Serpentine Barrens. There wasn't a huge variety of flowers here, but it was still a wonderful wildflower hike.
Serpentine is the "state rock" of California, and when there is a lot of it you find harsh conditions for plants. So you tend to see less variety, a more "barren" area. You also tend to find plants that prefer these conditions, that you might not find elsewhere.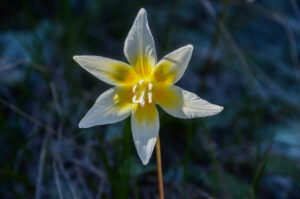 This isn't a trail that you'll find described in any guides. I hadn't heard of it until my friend, photographer Spencer Dykstra, wrote about it in his blog (which he subsequently discontinued, unfortunately). I pestered him for details, and I'm glad we went, because the Sierra Fawn Lilies were fantastic!
While we didn't see a wide variety of flowers, there were masses of these beautiful Lilies all along the trail. You don'  have to go far to see them, but if you take the hike you can find a number of interesting flowers.
Note: Click on any photograph to see a larger image.
The Hike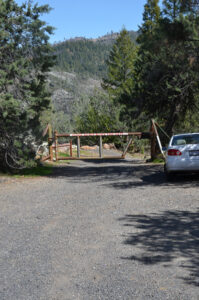 The trailhead is between Paradise and Magalia, at an unmarked turnout. This is PG&E property, not a state park or nature reserve. There is a well maintained gravel road that goes down the hill towards the Feather River that you can hike down if you are in a hurry, but you'll miss a lot if you do.
Start down the road, but just after you go around the first bend (just a few hundred feet) look for a trail that heads down off the east side of the road (where my wife is standing in the picture below). These trails are maintained by local volunteers.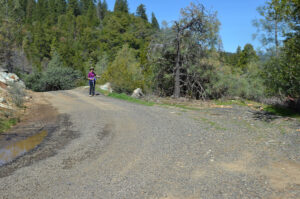 We didn't have to go far to see the Sierra Fawn Lilies, there were quite a few within just a few yards of the road. We were quite amazed, to tell the truth – usually when we visit these kinds of harsh locales you spend a lot of time hunting for a few flowers (such as at Traverse Creek). The further we went down the trail, the more lilies we found. Masses of them!
It's a good thing that there weren't many other hikers on the trail, my wife and I were getting giddy because there were so many lilies!
The trail wanders about. There are sections where you are crossing the exposed, dry serpentine hillside, and others where you are walking beneath the shade of the pine trees. It is a bit steep in some places, but you aren't scrambling down (or up) over the rocks or big steps.
You do have to pay attention to the trail – there are a lot of branches that lead off in unexpected directions, and a couple of times we found ourselves wondering if we were actually on a "trail". The PG&E service road isn't far away, so you have one good boundary to keep you in line. It wasn't much of a problem.
Note that there is some poison oak in the area – not a lot, but you want to be careful if you are going through the brush.
As far as I could tell the "main" trail heads down 2/3 of the way to the river, and then it meets the road. We did take the road the rest of the way down to the river, but that last portion wasn't very interesting. You don't have easy access to the river, as the road takes you to a small PG&E dam that is closed off from visitors.
It is a bit steep in places, with a fair amount of elevation change overall. I'll guess that we hiked about four miles, with around an 800 foot elevation change, but that is just a rough estimate.
Timing is Everything
Thanks to Spencer's recommendations we hit this on a perfect day, in mid-March. Lots of Lilies, and a few other flowers. There were signs that there would be a different selection of flowers at the lower part of the trail over the next few weeks. It was a sunny day, temperature in the upper 60's for the most part. Given that this is a drier Spring than normal, I would expect that you would normally want to come here late March to early April.
Directions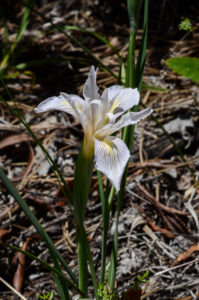 I guess directions depend on where you start. Let's start from Highway 99 in Chico.
Take exit 383 on Highway 99 in Chico.
Turn east on Skyway Road, which takes you through Paradise.
After 15 miles you will continue on New Skyway Road (just continue straight through the intersection, "Old Skyway Road" turns off to the left).
Another 0.9 mile, and you come to the intersection with Coutolenc Road (which has a traffic signal). Turn right on Coutolenc Road.
Just about 500 feet along Coutolenc you will see a turnout on your right (the first turnout that isn't a residence driveway). You will see a gate across the gravel road that is at the back of this turnout. Park here, walk down the gravel road past the gate.
About 200 feet further on, after you go around the first bend in the gravel road, look for the trail on the east (right) side of the road.
Paradise Serpentine Barrens Wildflowers
Please feel free to help me with the identification of any "unidentified" flowers listed here, as well as correcting any errors I may make. Click on any photograph to see a larger image. I'll start with a few favorites, and then the "gallery". All pictures were taken with either a Nikkor 18-135mm zoom lens, or a Nikkor 60mm closeup lens.
The star of this hike is the Sierra Fawn Lily. Note the spotted leaves. It is clear that this flower has an affinity for serpentine soils, we found masses of them in the rocky areas, and almost none when you moved over to the areas that had a different soil type. These were worth the trip by themselves.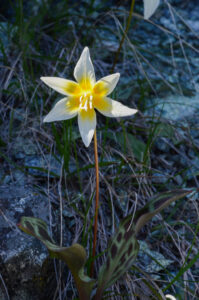 The Butte County Fritillary is a rare flower, and it comes out a bit later than the Sierra Fawn Lily. We found just a few of these, mostly near the top of the trail.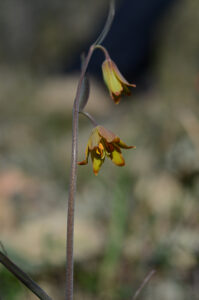 I'm not sure which Iris this is, we found very few on this hike, mostly on the lower section. There will be more showing later in the season (although the sparse rainfall this year may affect that).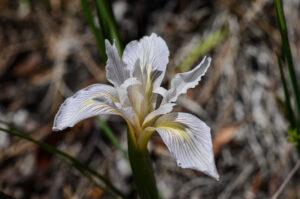 Blue Dicks seems to be the most common flower in Northern California. We find them on most hikes.