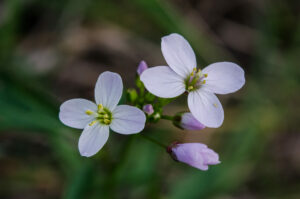 Mt. Tamalpais has an incredible number of trails, and a very long wildflower season. You can find interesting flowers from February through May, and every month has a different selection. On this hike we visited the Laurel Dell area in February, looking for orchids and early season lilies.
Note: Click on any photograph to see a larger image.
The Hike
You need a good map if you are going to hike on Mt. Tamalpais. Trails are usually well maintained, and there often are directional signs, but there are many crisscrossing trails. You can find a good topographic map at Tom Harrison Maps. You also can get a reasonable map of the area where we were hiking this time from the Marin Municipal Water District.  We used the water district map, which did help even though there were some minor inaccuracies.
There are many trail options, and we were looking for a hike of about 5 miles. In addition, we were looking for a particular flower that friends had spotted in the Laurel Dell area.
We started at the Rock Spring Picnic Area. It has a large parking lot, which is good because parking on Mt. Tamalpais can be difficult if you visit on a busy day. Just be careful how you park, there are no marked spaces and we did get boxed in for awhile by some inattentive drivers. There are lots of hikers but plenty of room for everyone.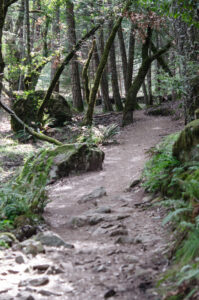 We started with the Cataract Trail, which wanders along Cataract Creek for about 1.5 miles (for the part we took). It is a relatively easy downhill hike, with several bridges across the creek. On the map track below there is a small spur in the track, a little side trip we took when we got on the wrong path (a fire road). Stick with the trail for this part.
You'll come to a very nice picnic area, Laurel Dell, which has a number of tables. If you go in late January or early February look for Fetid Adder's Tongue just past the picnic tables. They are small and easy to miss – look for the distinctive leaves.
We continued on Cataract Trail just past the picnic area to see Cataract Falls, where the creek spills across the rocks over an extended area. If you go just after the rains the trail can be muddy. After looking at the upper reaches of the falls, we headed back to the picnic area.
From here we headed up the hill on the Laurel Dell fire road. It climbs up fairly steeply. Keep your eyes open if you go in February, you may see the Fairy Slipper orchid along the side of the road.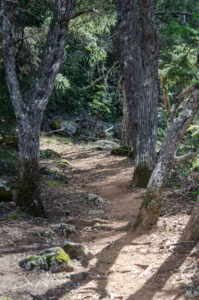 From the road we turned south on the Benstein Trail, which continues climbing. The terrain varies quite a bit, from dark woodland to exposed chaparral, then back into woodland. This is steeper and a rougher trail, with a bit of scrambling on the rocks (but not too difficult). Eventually you hit the crest and drop down quickly, returning to the Rock Spring Picnic Area.
Multiple trails cross the area, and the signs were mostly helpful. Sometimes they had different names than the ones on the Marin Water District map, but it wasn't hard to figure out where to go. We only had one unnecessary side trip along Cataract Creek.
Profile
Minimum elevation:
No data
Maximum elevation:
No data
Duration:
No data
Click the track to see an elevation graph. Move your mouse along the elevation graph to show the location on the map. The Refresh icon will re-center the map.
Timing is Everything
The wildflower season here is fairly long, starting in late January and stretching out into May, depending on the weather. This year we had an unseasonably warm break in the middle of February, and the trails had a chance to dry out. Temperatures in the low to mid-70's, puffy clouds, an excellent day for hiking! You won't see a wide variety of flowers this early, but they are worth the effort. Particularly if you have been cooped up all winter.
See my post on the Matt Davis trail, which is in the same area. We did that hike in April a few years ago, you can see how the flowers change through the spring.
Directions
There are many places to start your hike on Mt. Tamalpais. The Pantoll Ranger Station, on Panoramic Highway. is a good central point (but not a lot of parking). The Rock Spring Picnic Area is a short ways north of the Pantoll Ranger Station, on Pantoll Road.
There are porta-potties at this parking lot, and multiple trails you can take. It is best to go on a weekday, and arrive early in the day.
Laurel Dell Wildflowers
Not that many flowers this trip, but lots of mushrooms! Click on any photograph to see a larger image. I'll start with a few favorites, and then the "gallery" (click on the pictures to scroll through).
Fetid Adder's Tongue can be hard to find sometimes. This lily has a very small flower, and it doesn't stand out. The trick is to look for the leaves, which are very distinctive with their purple spots. There were a lot of these right at the Laurel Dell picnic area, and most hikers didn't even notice them. These are some of the earliest flowers of the season.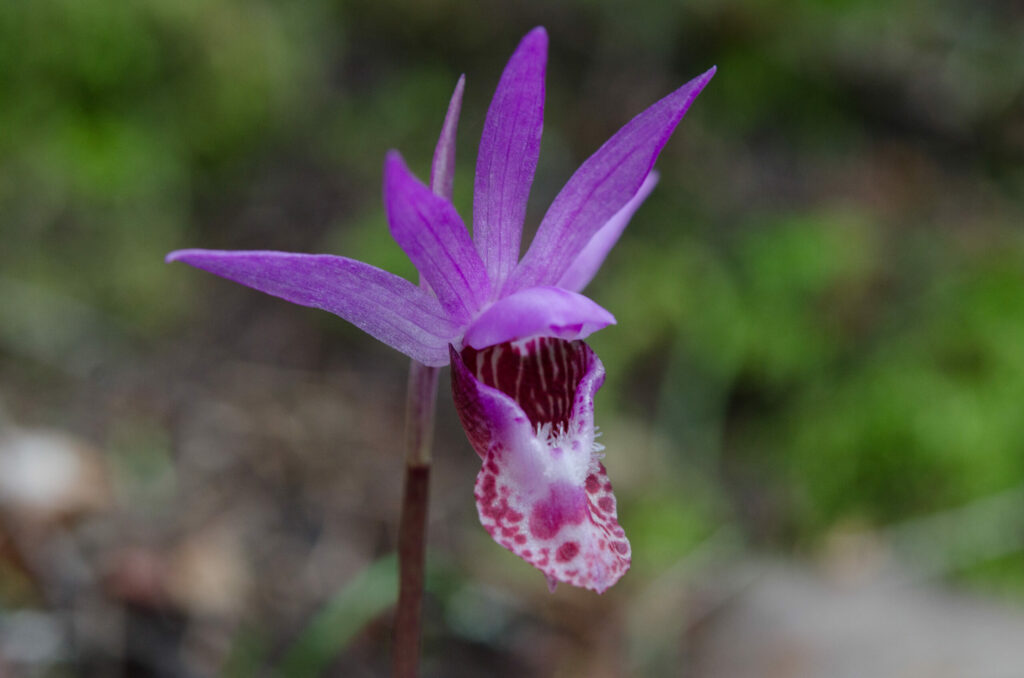 Our goal for the day was to find a Fairy Slipper orchid. We found only one, near the very top of the Laurel Dell fire road. I had heard that there were more in the area, but they are hard to spot.
To view the picture gallery, click on the larger photo below, then you can page through the gallery just by continuing to click on the images. If you recognize any that are marked "unknown" then please leave a comment (or, if I have misidentified any, let me know). Thanks!