The Martis Creek Wildlife Area has a surprising variety of native wildflowers early in the season. This is an easy trail near the Truckee airport.
When you look out over the area you think it is just dry sagebrush scrub, but if you get a chance to hike this trail at the right time you will find a lot to keep your interest!
Here's a sample of a few of my favorites from this hike (click on the image to see a larger view).
The star of the day was Beckwith's violet. I don't usually find this because it is an early season native wildflower found at higher altitudes, and usually at this time I'm exploring places at lower elevations. I was hoping to find a few on this hike, instead we found hundreds of them along several portions of the trail!
I love to find what I call "microflowers" – those little wildflowers that many people miss because they are so tiny (aka "belly flowers"). The blossoms of small flowered blue eyed mary are just 5 mm across, but they are beautiful when you get a close look at them. We found these before we even got out of the parking area, as well as at many spots on the trail.
Another interesting plant is alpine breeches. Hiking along, you see this lump of green leaves, and you may just pass it by.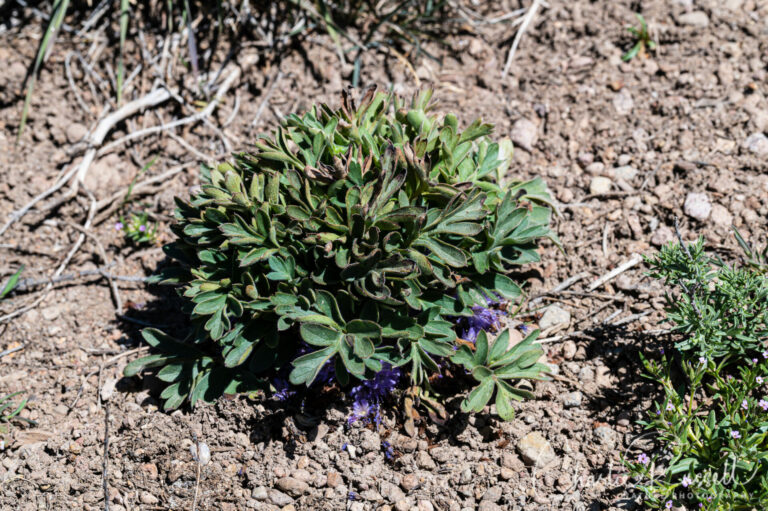 But if you peek under the edges, you find a beautiful array of blossoms!
If you click on the lightbox image below you will see larger versions of the photos, and you can scroll through all of the plants (and other things) that we found on this hike. All photos are available for purchase in a variety of formats.
This is an easy 4.5 mile (roughly) loop hike that is relatively flat.
From the parking lot you will head south on a gravel trail, towards a bridge. There may be some "no trail access" signs on either side, which is confusing, but those apply to the roads that run parallel to the highway. You can continue straight towards the footbridge with no trouble.
The broad gravel trail will head into some trees and then come out into another portion of the meadow that is covered in grass. Stay on the wooden walkway as it crosses the meadow and stream. This area is moister, and we found a different collection of wildflowers here. Lots of Beckwith's violets, plantainleaf buttercups, and more. From this point on the trail is a narrower dirt track, it could be muddy in spots.
The trail turns in to the forest, to get to a bridge that crosses the creek. Views of the ski runs in the distance.
Note that there are benches at several places along the way, and there is a picnic table near the creek in the trees. It is very pleasant. We found a different collection of wildflowers along this section.
The trail skirts along some very expensive looking condominiums, and eventually comes to a golf course. The trail skirts along the edge of the golf course.
The trail returns to the meadow, with even more violets and buttercups. It is worth going this far, as you may find some flowers you haven't seen yet on this hike (we found several species).
Normally you would continue on the trail as it runs along the highway, to get back to the parking lot. Unfortunately, at about 3 3/4 mile, this portion of the trail is blocked off by construction. They are improving the trail as well as making improvements to the drainage. What do you do?
One option is to turn around and head back the way you came, making this a much longer hike.
Alternately, you can find a way to get to the shoulder of the highway, and hike along there. The parking lot is just over that rise in the distance. A shorter way to go, and the highway shoulder is very broad. 
Here's the track that we followed:
Profile
Minimum elevation:
No data
Maximum elevation:
No data
Duration:
No data
Move your mouse along the elevation graph to show the location on the map. The Refresh icon will re-center the map. The Expand icon will expand to full screen.
The Martis Creek Wildlife Area is near the Truckee Airport. From Highway 80 take exit 188 onto Highway 267 towards Lake Tahoe. About 3.5 miles from 80 you will see a small sign for the Martis Creek Wildlife Area, and a parking lot. 
Note that the parking lot is small (only room for about 20 cars), and this is a popular spot for dog walking and mountain biking. It is easier to park here mid day, after the morning dog walking rush is over.
There are no restroom facilities here. However, just across the highway is the entrance to the Martis Creek Lake Recreation Area, and there are pit toilets easily accessible there.
Timing is the big issue here. We visited in the first week of May 2022, and it was a clear sunny day with very little wind. Temperatures were in the low 70's, which was amazing.
However, just a couple of days after this hike, the weather changed, and three inches of snow fell in the area. I'm not sure what that did to the flowers!
We've hiked in this general area before, at Waddle Ranch (just across the highway), in June, and found it very hot and dry.
So I'm not sure what to say other than to try it in May, but check the weather forecast!
Martis Creek Wildlife Area Wildflower Listing
Here's a listing of the native plants that we found on this visit. 
The scientific name will usually be a link to a reference source such as Calflora. "nif" means "not in flower". 
Alpine breeches, Hydrophyllum alpestre
Antelope bitterbrush, Purshia tridentata var. tridentata (nif)
Beckwith's violet, Viola beckwithii
Big sagebrush, Artemisia tridentata  (nif)
Brown's peony, Paeonia brownii (nif)
Columbia ragwort, Senecio integerrimus var. exaltatus
Goosefoot violet, Viola purpurea
Greenleaf manzanita, Arctostaphylos patula
Hooker's balsam root, Balsamorhiza hookeri
Bulbous woodland star, Lithophragma glabrum
Mahala Mat, Ceanothus prostratus (nif)
Meadow deathcamas, Toxicoscordion venenosum var. venenosum (nif)
Narrow-leaved montia, Montia linearis

Nevada biscuitroot,

Lomatium nevadense
Northern sanicle, Sanicula graveolens
One seeded pussypaws, Calyptridium monospermum 
Pursh's milk vetch, Astragalus purshii var. tinctus
Redstem springbeauty, Claytonia rubra ssp. rubra
Slender phlox, Microsteris gracilis
Small flowered blue eyed mary, Collinsia parviflora
Virginia strawberry, Fragaria virginiana (nif)
Western buttercup, Ranunculus occidentalis
Willow, Salix sp.
The following are non-native plants that we found on the hike as well:
We also found the following:
Brown-eyed Wolf Lichen, Letharia columbiana
Sponge Gall Midge, Rhopalomyia pomum (on Artemisia tridentata)
Thrip