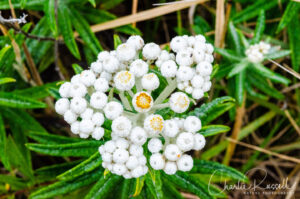 I live in California's central valley, and summers can get quite warm. To get a break from the heat I like to visit the Point Reyes National Seashore, which isn't too far away. A temperature drop of 30 degrees! One of our stops there was at Drakes Beach, and with a very short hike we were able to see some very interesting wildflowers, even in late July.
The Flowers
Here's a sample of a few of my favorites from this hike (click on the image to see a larger view).
The star of the show this time was Oregon gentian, which was the reason that we visited this spot. This subspecies if found along the coast from Marin on up into Oregon, possibly into Washington. These were found in the bushes along the trail leading up from the beach into the headland.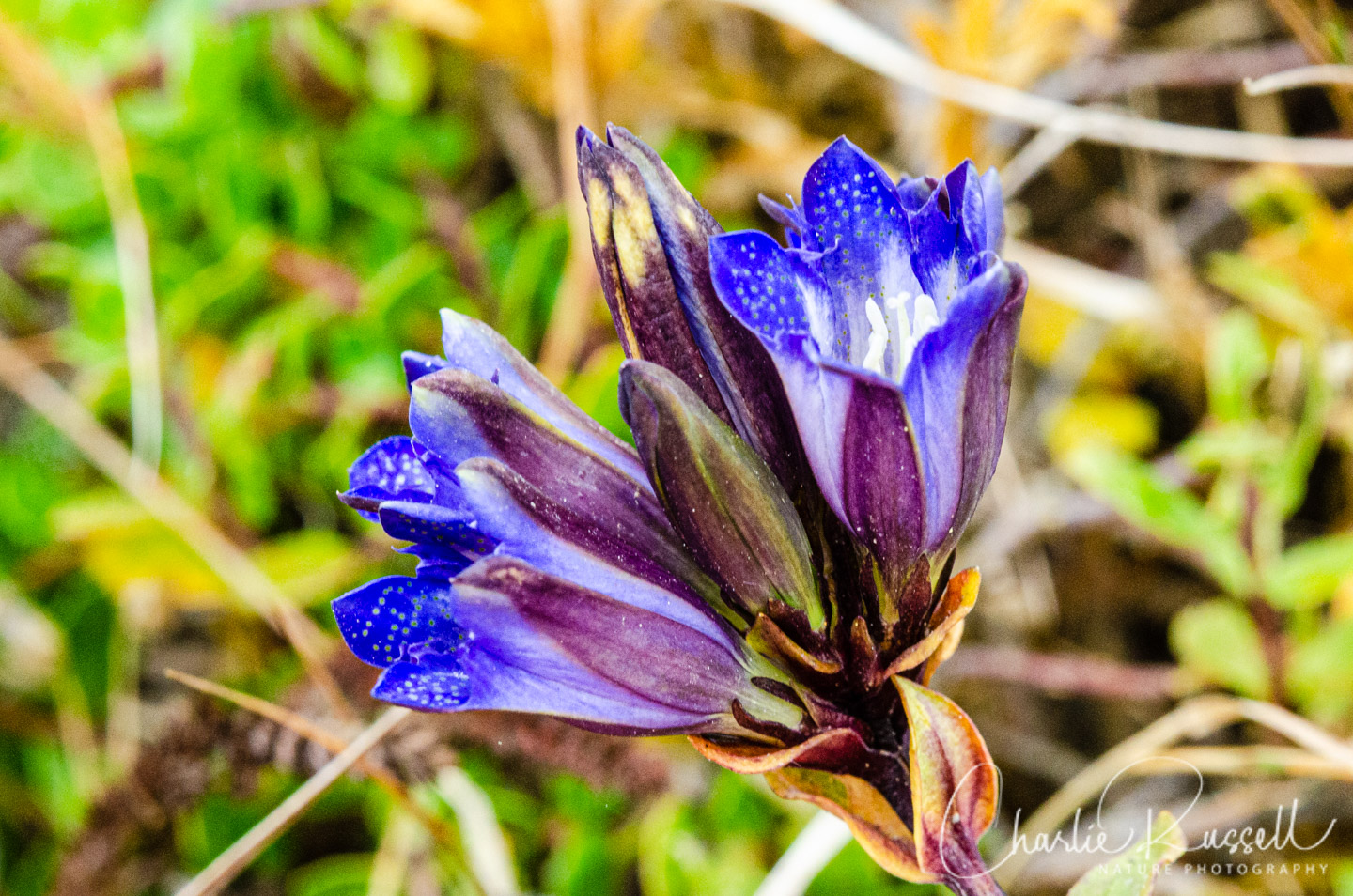 Right on the beach, just as you step off the parking lot, there were several patches of pink sand verbena. Bright pink, although it was foggy when we visited, which muted the colors a bit. I suspect this might be the very rare subspecies Abronia umbellata var. breviflora, but you need mature fruit to be able to differentiate the subspecies.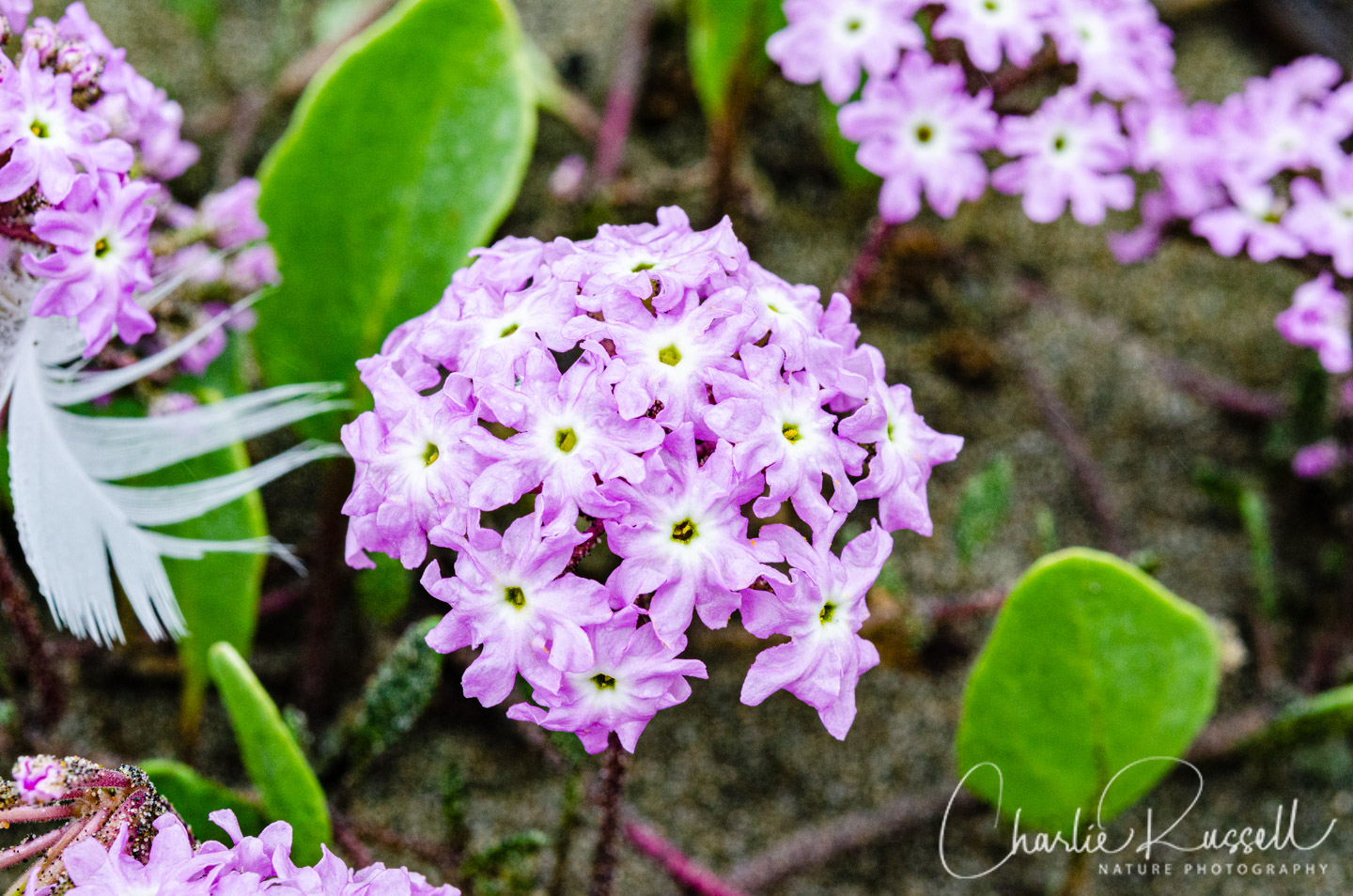 If you click on lightbox image below you will be able to scroll through photos of many of the plants (and other things) that we found on this hike. All photos are available for purchase in a variety of formats.
The Hike
This is a short hike. You can find flowers along the beach (on the edge, and on the beach itself). There is a paved path that starts at the parking lot on the west side and climbs up the headland to a viewpoint. We found wildflowers along this path, but watch for poison oak! From that viewpoint there is an informal trail that continues further up the hill. It goes for quite a way down the beach, but we only had to go a few hundred feet to find what we were looking for. It is very important that you keep back from the cliff edge, as the cliff is not stable. We found more flowers up here, right along the path. This is the area where we found the gentian, tucked in several spots around the bushes. This is a short stroll, probably a third of a mile round trip.
Directions
Drakes Beach is a popular area in the Point Reyes National Seashore, which is in Marin County, north of San Francisco. There are many trails and beaches, and the National Park Service website has excellent maps. I have several articles on places to hike at Point Reyes for wildflowers.
It is very important that you check the Point Reyes website for information about beach and road closures. On this visit we couldn't drive to Chimney Rock due to road closures, and there were long delays for road construction in the middle of the park.
To get to Drakes Beach, head west from Point Reyes Station (on Highway 1) on Sir Francis Drake Boulevard. This will turn north and run along Tomales Bay, and then will turn west again to cross the peninsula. At one point there will be a junction with the road to Chimney Rock and the lighthouse, you want to go left towards Drakes Beach. It is about 16 miles to the beach from Point Reyes Station.
There is a very large parking lot at the beach, and on the east side there is a visitor center. On this visit the visitor center was closed (due to COVID-19), but fortunately the bathrooms were open.
Timing is Everything
We visited on a weekday morning in July, and it was very foggy. Temperatures were in the mid 60's at best. There wasn't much of a view out to the bay, and the cool weather (and pandemic) kept the number of people low (which was great for us!). I suspect that there are some wildflowers here from late March through at least August. This is not a "hot spot" for wildflowers, but the gentian and sand verbena were worth the visit.
Drakes Beach Wildflowers
Here's a listing of the native plants that we found on this visit. I don't have pictures of all of these in the gallery, as many that I took are low resolution pictures using my phone camera (I use those for iNaturalist observations).
The ones listed in color are endemic to California (that is, found only in California). "nif" means "not in flower". In most cases the scientific name will be a link to a reference source such as Calflora.
Coastal gumweed

, Grindelia stricta var. platyphylla
Coyote brush, Baccharis pilularis
Common cowparsnip, Heracleum maximum
Common Yarrow, Achillea millefolium
Douglas iris, Iris douglasiana (nif)
Ladies' tobacco, Pseudognaphalium californicum
Lance self heal, Prunella vulgaris var. lanceolata
Oregon gentian, Gentiana affinis var. ovata
Pacific aster, Symphyotrichum chilense

Pacific false bindweed

, Calystegia purpurata ssp. purpurata
Pink sand verbena, Abronia umbellata
Poison oak, Toxicodendron diversilobum
Seaside buckwheat, Eriogonum latifolium
Silver beachweed, Ambrosia chamissonis
Western brackenfern, Pteridium aquilinum
Please note that Common cowparsnip can cause severe blisters to people who are sensitive, as does Poison oak.
The following are non-native plants that we found on the hike as well:
Bird's-foot Trefoil, Lotus corniculatus
Buckhorn plantain, Plantago coronopus
Bull thistle, Cirsium vulgare
Chilean Sea Fig, Carpobrotus chilensis
Narrowleaf plantain, Plantago lanceolata
Sea Rocket, Cakile maritima
We also saw:
Columbian Black-tailed Deer, Odocoileus hemionus ssp. columbianus
Farinose Cartilage Lichen, Ramalina farinacea
Spotted Cucumber Beetle, Diabrotica undecimpunctata