Samuel P. Taylor State Park is an interesting mixture of dark forested streams, redwood trees, and grassy hillsides. It is a great place to find wildflowers, although it is a real mix of native and non-native plants. Finding some of the trailheads can be a bit confusing, and unfortunately some of the trails that you'll see described on hiking websites may be closed because of a lack of funds to maintain them. However, it is well worth a visit.
Click on any photograph to see a larger image.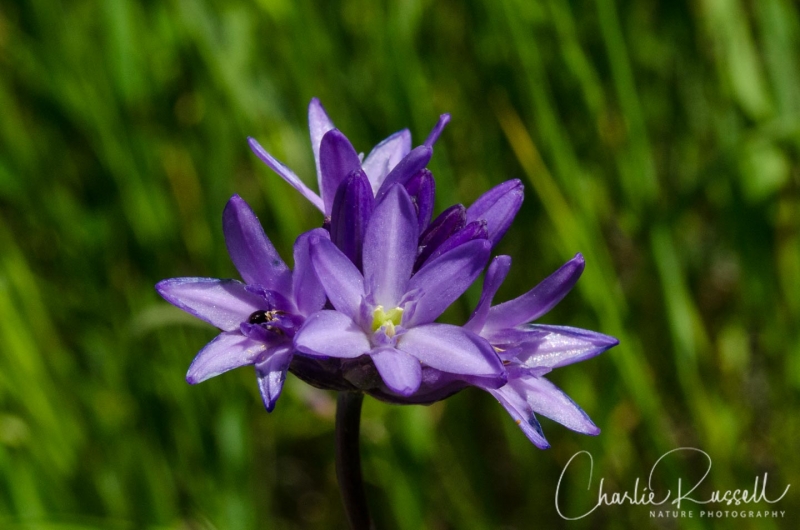 The Hike
The Samuel P. Taylor State Park website has a link to the park brochure, and that has a trail map. We did find the map a bit confusing, though. The park ranger at the park entrance did give us some tips on how to find the trailhead we wanted, but we did still end up wandering around a bit.
We hiked about four miles, but that included a stretch along the main road that wasn't great (although we found several new flowers along the roadside!), and some side trips.
We started from the parking lot just inside the park entrance, which is the day use / picnic area. Walking west towards the campground you will see these signs: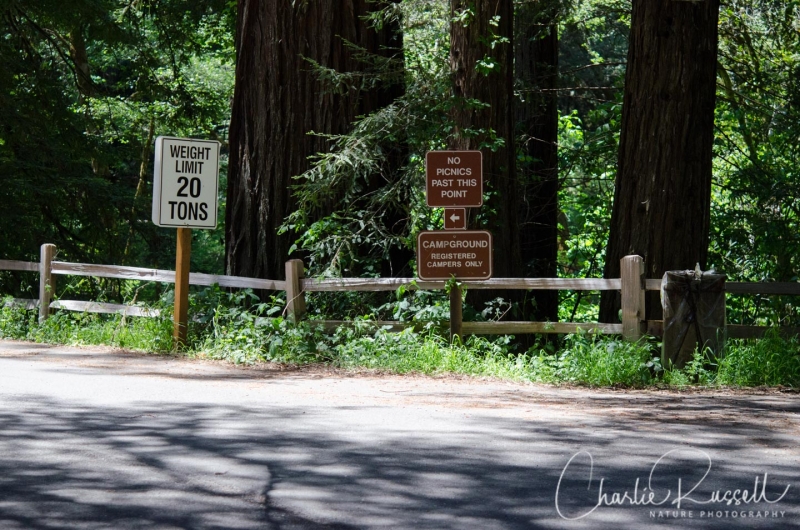 From this point, look to your right, and you will see a gate and an RV "dumping station" that is no longer active.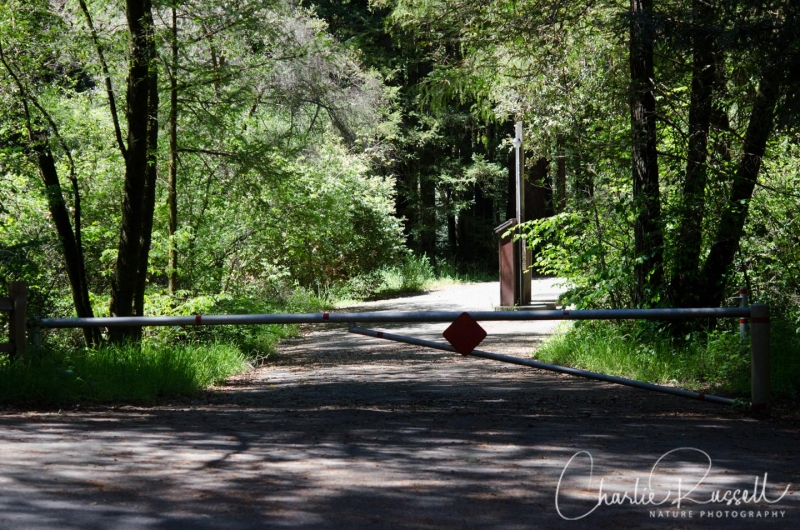 This is the trailhead! Walk through here and you will find a trail on the far side that parallels the roadway, heading west.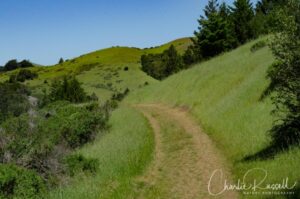 After a short distance there is a branch in the trail that goes up to the roadway so that you can cross to the other side. Be careful, cars and bikes speed along the road. On the other side is a service road that heads uphill to the Madrone group campsite. Follow this road as it winds up the hill past the campsite. This changes to a dirt road that crosses open grassland dotted with trees and shrubs. There are many different kinds of flowers along the roadside, although a high percentage are non-native.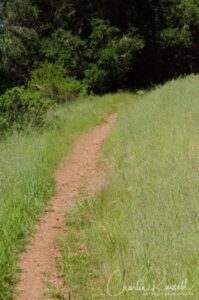 Eventually you will come to a well-marked trail junction. The Barnabe Road/Trail heads uphill to your right, out into a more exposed grassland area. This continues up to Barnabe Peak and a fire lookout, and then heads downhill to Lagunitas Creek, eventually looping back to your starting point. On our visit the temperatures were hitting the mid 80's so we opted for a shorter and cooler hike, taking Gravesite Road/Trail to the left, towards Devil's Gulch. Still a lot of grass, but also a lot of shade. There is a little side trail part way along, which leads to the grave site of Samuel P. Taylor and his wife.
Heading down into Devil's Gulch you may run into some muddy spots if it has been raining. There is a small stream to cross, but there were several well-placed stones that made it easy. Now you are getting into a shady section, with lots of Iris scattered about, and many ferns. You'll come to the main stream in Devil's Gulch, which is large enough to support a small salmon run in the early spring. There is a bridge to cross the stream here. You'll see a sign for Bill's Trail, which heads to Stairstep Falls and back to Barnabe Peak, but that trial is closed now (it doesn't show on the park service map).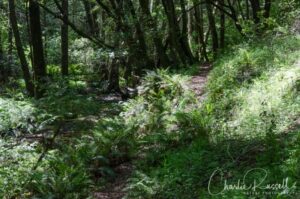 You will cross the stream on the bridge and come face to face with a huge redwood tree. There are several options here. Turn left to head down Devil's Gulch to the main road. Go straight ahead (more or less) for Deer Point Road, which leads up the hill. At your right is a small trail that leads uphill along the creek, which is what we chose. This is a cool, pleasant hike amongst the ferns.
After heading up this trail we eventually decided that we'd seen enough (lots of ferns, few flowers), so we turned around and headed back. The trail meets up with a service road, and that reaches the main road. There is supposed to be a trail on the opposite side of the main road that runs along Lagunitas Creek back to Camp Taylor, but we could not get through. We found what we thought was the start of the trail, but it was heavily overgrown and blocked by downed trees (and poison oak), so we walked along the side of the roadway. The bad news was that traffic is fast, so you have to pay attention. The good news was that we found a number of native flowers along the way, off the side.
Eventually we could see the trail along the creek, so we were able to cross over and follow that back to our starting point.
Click the track to see an elevation graph. Move your mouse along the elevation graph to show the location on the map. The Refresh icon will re-center the map. The Expand icon will expand to full screen.
Timing is Everything
We visited the area on an unusually hot day in early May, which is why we focused on Devil's Gulch. This area should be good to visit for flowers any time from March through May, possibly even longer. It's close enough to the ocean to get some marine influence.
I would pay attention to rain patterns, though. For the trail that we took, there was a stream to cross that could be very wet after a big rain, and several places on the trail were very muddy. Devil's Gulch was very shady, which was nice on a hot day, although there weren't as many flowers there.
Directions
The Samuel P. Taylor State Park main entrance is on Sir Francis Drake Blvd, roughly 5 miles east of Olema in Marin County. There is lots of parking, and excellent restroom facilities in the picnic area. In addition to this hike there are several trails that take you through the redwood grove.
Watch out for poison oak, although if you stay on the trails you won't have any trouble.
Samuel P Taylor State Park Wildflowers
Click on any photograph to see a larger image
People have been living in this area since the mid 1800's, so there are a lot of non-native plants. Out of the 50 different species we found on this particular hike, 19 were "exotic" or non-native. In the gallery link below I've included both the native and exotic plants that we found.
One of my favorites was Fringe Cup, something I've not come across before. I have several more shots of this tiny but interesting flower in the gallery.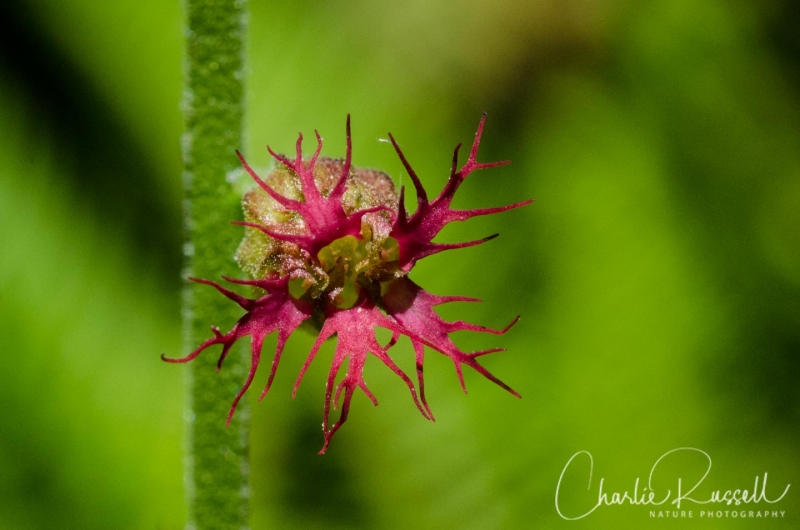 Crimson Columbine is one of my favorites all time flowers, and we found this in several places heading down from Gravesite into Devil's Gulch.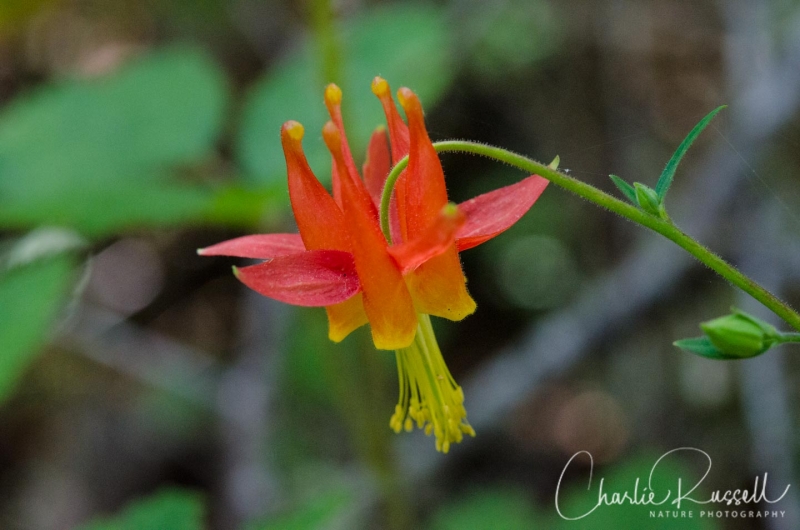 Under the redwoods in the picnic area we found Redwood sorrel.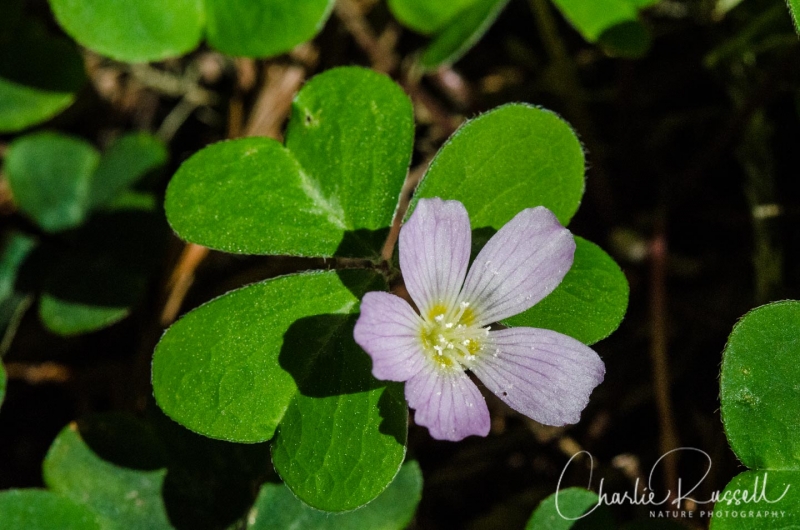 Douglas Iris is variable species, ranging from deep blue to white. We found quite a few of these at several stages in the hike, ranging from a light lavender to almost yellow. Very pretty! I have an additional shot of the white/yellow variation in the gallery below.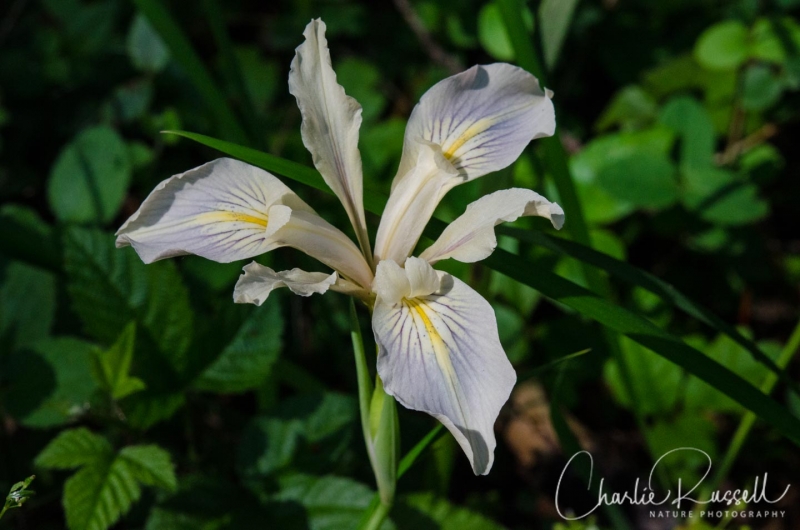 I don't usually highlight the exotic (non-native) plants we find, but the predominant flower we found at just about all stages of the hike was Forget me not (Myosotis latifolia), in great abundance. It was very dark under the trees, so this shot doesn't really show how bright the flowers were.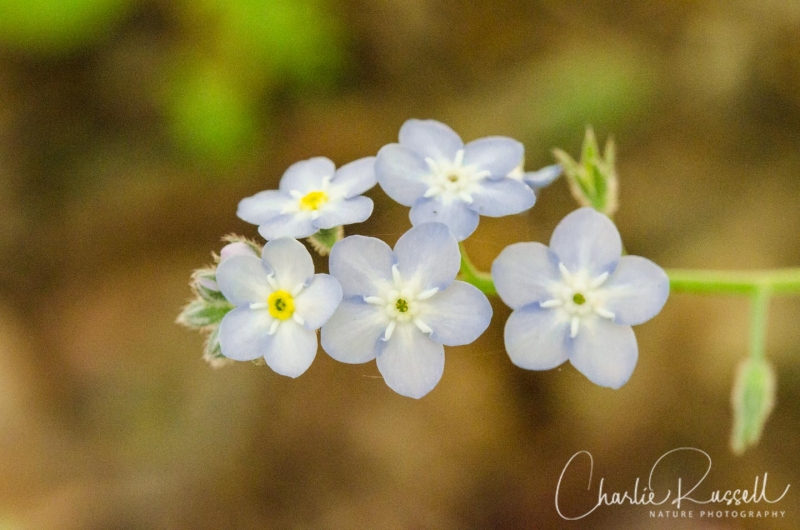 This high-rainfall year brought out the Blue eyed grass (which isn't a "grass") in great abundance in many of the places we hiked.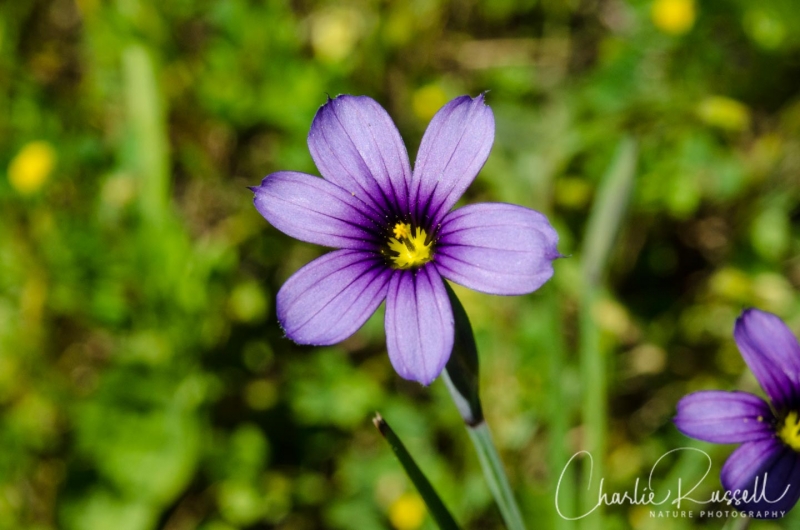 An interesting find was this white form of Blue eyed grass, near the grave site.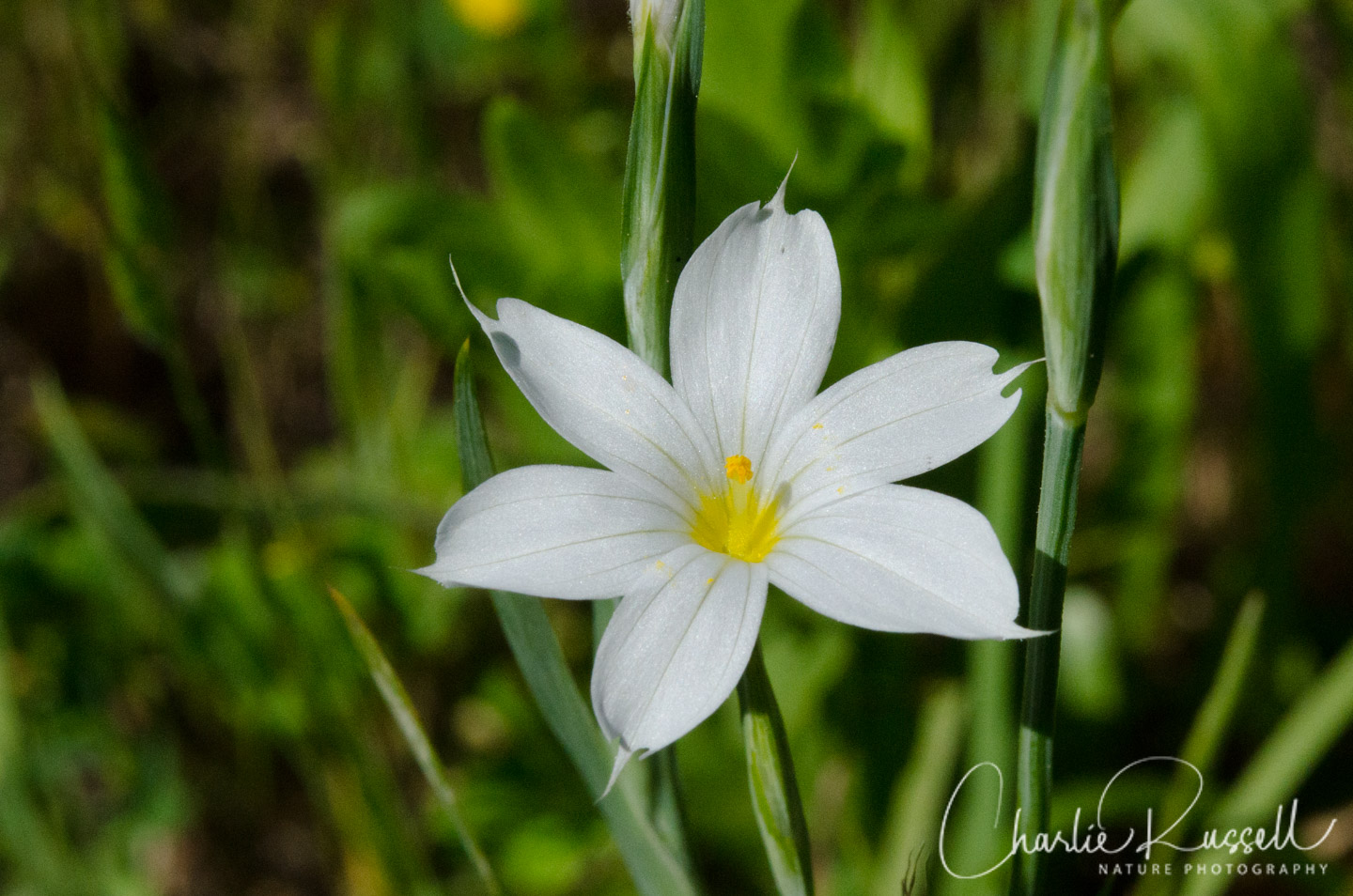 Walking along Sir Francis Drake Blvd through the park, on our return trek, wasn't my favorite part due to the cars, but on a positive note we did find several beautiful native flowers. One that I've not come across before is this One-leaf onion, a native flower found only in California.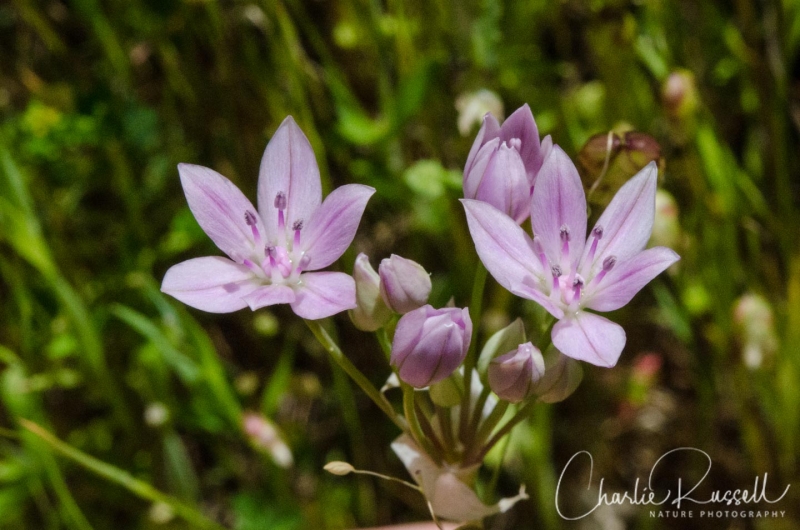 For the best viewing experience, click on the lightbox image below, and you can scroll through larger versions of the photos of many of the plants (and other things) that we found on this hike. All photos are available for purchase in a variety of formats.
In addition to what I discussed above, we found:
Short podded lotus, Acmispon brachycarpus
Redwood violet, Viola sempervirens
Pacific starflower, Lysimachia latifolia
California strawberry, Fragaria vesca
Pacific sanicle, Sanicula crassicaulis
California poppy, Eschscholzia californica
California milkwort, Rhinotropis californica (Polygala californica)
Rigid hedge nettle, Stachys ajugoides var. rigid
Purple needle grass, Stipa pulchra, California's official "state grass"
Checker bloom, Sidalcea malviflora
Rusty popcornflower, Plagiobothrys nothofulvus
Horsetail, Equisetum spp
California blackberry, Rubus ursinus
California buttercup, Ranunculus californicus
Milk maids, Cardamine californica
Common woodland star, Lithophragma affine
California wild rose, Rosa californica
California man-root, Marah fabacea
Sweetcicely, Osmorhiza berteroi
Bush monkey flower, Mimulus aurantiacus (Diplacus aurantiacus ssp. aurantiacus)
Fleshy lupine, Lupinus affinis, and other Lupines
Western thimbleberry, Rubus parviflorus
The following are non-native plants that we found on the hike as well:
White flowered onion, Allium triquetrum
Hairypink, Petrorhagia dubia (aka Windmill pink)
Spiny buttercup, Ranunculus muricatus
Shamrock clover, Trifolium dubium
Pale flax, Linum bienne
Scarlet pimpernel, Lysimachia arvensis
Hairy cats ear, Hypochaeris radicata
Rattlesnake grass, Briza maxima
Woolly clover, Trifolium tomentosum
Subterranean clover, Trifolium subterraneum
Spring vetch, Vicia sativa
Mediterranean lineseed, Bellardia trixago
Broadleaf glandweed, Parentucellia latifolia
English plantain, Plantago lanceolata, aka Ribwort
Rose clover, Trifolium hirtum
Common catchfly, Silene gallica
White stemmed filaree, Erodium brachycarpum
Clustered clover, Trifolium glomeratum
Robert's geranium, Geranium robertianum