Orchids! What a wonderful find! Plumas County is a wonderful place for wildflowers, and this year we were very lucky to be able to find several species of orchids, some quite rare.
We were very fortunate to make the acquaintance of Joe Willis, whose Black Oak Naturalist blog has long been one of my favorites. Joe is a retired school teacher, and a naturalist with a wonderful ability to find and write about both the common and the rare treasures that he finds in Plumas County. Without Joe's assistance, we never would have found the Mountain Lady's Slipper orchids, or many of the other flowers I'm showing here.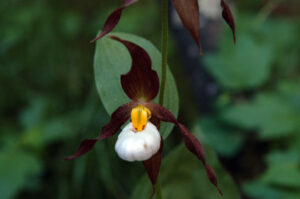 Click on any photograph to see a larger image.
The Hike (and so forth)
This wasn't a hike, it was a "drive". All of the flowers in this particular blog posting were found near Quincy, in Plumas County, near Oakland Camp. All of them were found along the roadside, either close to Oakland Camp or on the drive to it from the highway.
We arrived in Quincy in the evening and stayed at the Quincy Courtyard Suites. Very nice rooms, perhaps a bit high priced for the area. The suites are VERY large.
For dinner we ate at Sweet Lorraine's Good Food, a nice restaurant just next door. Also a bit high priced, but there was a great selection (and not a lot of alternatives in Quincy).
Breakfast was at Patti's Thunder Cafe (formerly Mountain Thunder Cafe), a few blocks to the northwest of the hotel. Great food and atmosphere, and HUGE breakfasts.
Timing is Everything
We visited in early June and the weather was excellent, a clear sunny day with temperatures reaching the low 80's. The wildflower season in this area is quite long, so you always have a great opportunity to find something interesting.
Mornings are best for flower pictures, it does seem to get windy in the afternoons quite often.
Directions
From the Oroville area follow Highway 70 north, and then east as it climbs through the Feather River Canyon. This drive is worth taking just to see the river as the highway winds through the canyon. In May and early June there are many wildflowers to see right along the roadside.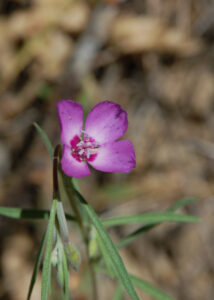 About 4 miles north of Quincy look on the east side of the road for signs for "Oakland Camp". You want to take Chandler Road (at the Evergreen Motel and Trailer Park) which heads southeast from the highway. Chandler winds around a bit, and at approximately 2.3 miles from the highway it takes a sharp turn to the right to cross a bridge. Don't go on the bridge, head straight onto Oakland Camp road. You may find a number of flowers along the side of this road – most were high up the bank and difficult to reach. About a mile later the road splits, take the right fork which crosses the stream on a low "ford" (a low cement causeway that can be flooded if the stream is high).
In the next half mile after you cross the stream you will want to stop and wander along the east side of the road, opposite the side that has the creek. Tread carefully, the flowers are low and scattered, you don't want to tread on them. This is where you should find the orchids. Take pictures only, please! Lighting can be tough as the flowers are back in the woods. Further up this road were some branching service roads. We found other flowers there as well.
There are no restroom facilities in the area.
The Flowers
Please feel free to help me with the identification of any "unidentified" flowers listed here, as well as correcting any errors I may make. Click on any photograph to see a larger image. I'll start with a few favorites, and then the "gallery". All pictures were taken with a Nikkor 18-135mm zoom lens
, or a Nikkor 60mm closeup lens.
A number of these flowers (milkweed, paintbrush, Ookow, phacelia, gilia) were found on the banks of the road driving in to where we found the orchids. Unfortunately, it was quite a scramble up the bank to get close to them!
Spotted Coralroot is an orchid that is found in quite a few places in California. The flowers themselves are quite small, just a quarter inch across. The first time I came across this a few years ago I didn't even notice that they were an orchid until I looked at the pictures at home, and zoomed in. These are interesting plants, without chlorophyll. They parasitize the mycelium of fungi in the soil to get most of their nutrition.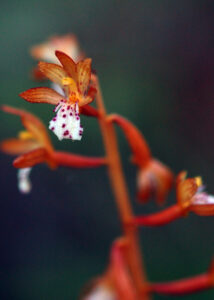 The plants themselves tend to look a bit raggedy, so it is easy to skip over them. At Oakland Camp we found some that were yellow, also. I'm not sure if these are just a color variation, or if they are "Yellow Coralroot" (Corallorhiza trifida). Most likely this is just a color variation.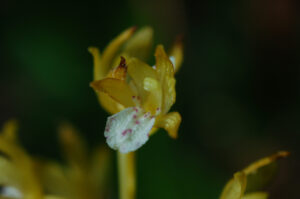 We did find quite a few of the Mountain Lady's Slippers in the forest, scattered about. These are very rare, and they only last a few weeks.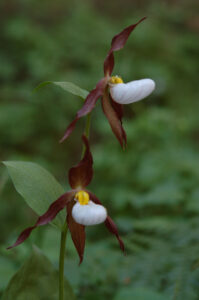 The Shasta Daisy is not a native flower, but quite beautiful. There are many of these throughout the area, particularly in the open meadows heading towards Oakland Camp.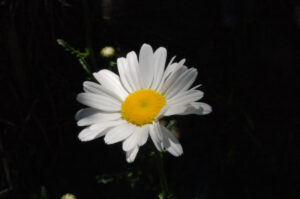 Crimson Columbine were just starting to show in this area. There will be quite a few of them later in the month.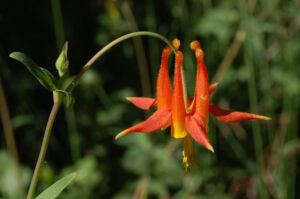 If you click on the lightbox image below you will see larger versions of the photos, and you can scroll through all of the plants (and other things) that we found on this hike. All photos are available for purchase in a variety of formats.