We've never been to the Lakes Basin area of Plumas County before, so I didn't know what to expect. We visited the area in early July 2010. What we found was a wonderful hiking area with a variety of flowers, lakes and hiking trails. The trail was uneven in spots, but not difficult for the most part. There are many trails in the area so you can choose how long to hike.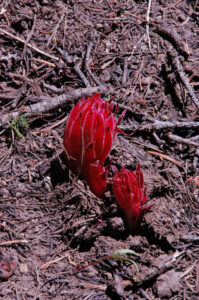 Even though the temperature was a bit warm (low 80's), at roughly 6500 feet there was still a fair amount of snow on the ground. This was early in the wildflower season, and there was a lot of water on the trails. Water levels at one portion of the trail around Big Bear lake had us hopping from rock to rock. In other sections we had to traverse some small snow fields.
In addition to the wildflowers and wonderful clean mountain air, there is an abundance of mountain lakes, in a wide variety of sizes.
Note: Click on any photograph to see a larger image.
The Hike
We started at the trailhead near Elwell Lakes Lodge, although there is more parking available at the trailhead near Gold Lake Lodge. We took a loop that went past Big Bear Lake, Little Bear Lake, Cub Lake, Silver Lake, Round Lake and then back to Big Bear Lake.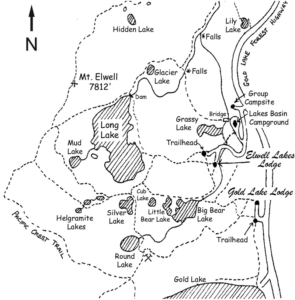 The hike starts off with an easy trail  through the forest along a stream, and then starts climbing. You get out of the trees fairly soon, and it can get warm without a lot of shade. As you go further west from the trailhead there is a steady climb that takes you along a number of lakes of varying sizes. Each lake was different – see additional pictures of the lakes in the gallery at the end.
This time of year there is still a fair amount of snow on the mountains, and as we reached Round Lake we found several sections where we had to traverse across some smaller snow fields.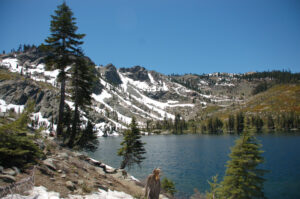 There is quite a bit of elevation change as you head up and past Round Lake (the crossed picks on the map are the high point, near an old gold mine).
Timing is Everything
The weather was excellent, a clear sunny day with temperatures reaching the low 80's. It is hard to know when to visit this area due to the elevation (around 6500 feet). You can get some idea of conditions from the Plumas County Wildflower Hotline blog, but they cover a lot of territory. We went in early July and we were seeing the early season flowers. Still a lot of snow on the ground.
Directions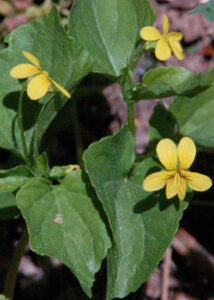 From Sacramento:
Take Highway 80 East.
In Auburn take Highway 49 North
Continue through Nevada City on 49, past Downieville (a fund place to visit) and Sierra City.
Roughly 14 miles after Sierra City, at Bassett's Station, turn left (north) on the Gold Lake Highway.
Approximately 6 miles later you will see the turnouts for the trailheads. Look for signs for either Gold Lakes Lodge (2nd left past the main entrance to Gold Lake) or Elwell Lodge, a bit further on.
The Flowers
Please feel free to help me with the identification of any "unidentified" flowers listed here, as well as correcting any errors I may make. Click on any photograph to see a larger image. I'll start with a few favorites, and then the "gallery". All pictures were taken with a Nikkor 18-135mm zoom lens
.
Past Big Bear Lake the trail moves out of the forest into the open, and we found multiple patches of Spreading Phlox. The color variations are interesting, varying from very white, to pink, to a light blue.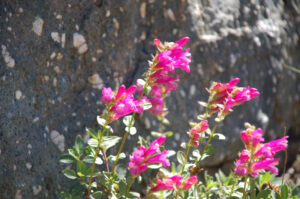 We found patches of Mountain Pride at the trailhead, as well as higher near the gold mine overlooking Round Lake.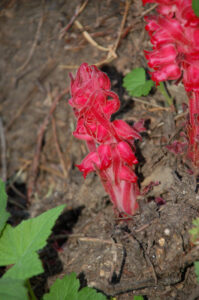 Snow Plant is a rare find, you will only see it just as the snow is melting.  It is a parasitic plant that derives nutrients from mycorrhyzal fungi that in turn have a symbiotic attachment to roots of trees.
If you click on any image below you will see larger versions of the photos, and you can scroll through all of the plants (and other things) that we found on this hike. All photos are available for purchase in a variety of formats.