I've lived all my life in Northern California, and I'm ashamed to say that I've never been hiking at Mount Diablo State Park before this visit! When I saw that the Mount Diablo Interpretive Association (MDIA) had a guided wildflower hike North Peak trail in April 2012, I jumped at the chance. I'm glad I did!
The hike was led by Michael Marchiano, who has lived in the area (including some time spent living at a ranch in what is now the State Park). Michael led our small group on a 3 mile (more or less) round trip, talking about the history of the area and pointing out the unique flowers.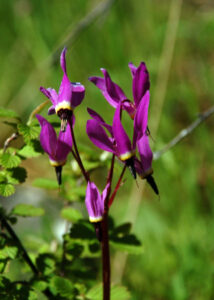 Mount Diablo has  large number of trails at several different elevations. I'm sure that we'll be going back in the future, as there is quite a variety of plants and rock formations on these various trails. MDIA has a calendar that lists the guided hikes that they offer.
Click on any photograph to see a larger image.
The Hike
This particular hike starts just a bit over half a mile down from the Summit Visitor Center. There is a sharp bend in the road with a turnout, called the "Devils Elbow". The sign for this wasn't too obvious, but there is a large map kiosk at the turnout (and it is the first big turnout as you come down from the summit).
The trail heads down towards Prospector's Gap, going along the side of the mountain. You'll be looking down at mixed chaparral and brush, but there are many flowers right from the beginning. This is a fairly dry and exposed area. As you go around the mountain there is an outcropping off to the side of the trail, a big knob of rock, and I recommend that you take a side trip there (it is just a short distance. This is a great place to sit and enjoy the wonderful view, and there were quite a few flowers here that we didn't find on other sections of the trail.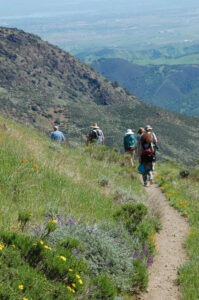 As you continue down the trail and around the mountain you start to get into an area with higher shrubs and Bay trees, so there is a bit of shade every once in awhile that is very welcome. If it has been raining recently you may find some small streams.
On this guided hike we went in about 1.5 miles, then we turned back. Now you head back uphill! It wasn't too bad as long as you take it easy, and there is that wonderful side "knob" for taking a break.
Note that this trail is open to mountain bikes, so pay attention. The trail is well maintained but narrow – we didn't have problems with the bikes but we did have to stand on the side to let them pass. We also ran into quite a few hikers who were taking the longer hikes out towards North Peak and other areas. There is quite a network of trails. MDIA has a great set of trail maps that you will find useful.
Timing is Everything
This particular hike was taken in April, but this year the rainfall was very irregular so I'm not sure what is normal. We found a great variety of flowers, I'm sure that you can find flowers earlier and later in the Spring. There is such a variety of microclimates in the park that you are sure to find something somewhere in the park from March through May, at the very least. It can get warm, so make sure you take water. It was getting into the mid 80's on our hike, but it had been much cooler just a few days earlier.
Directions
Mount Diablo State Park has three main entrances: North Gate, South Gate and Mitchell Canyon. You can drive to the summit (which I highly recommend for the wonderful views!) from the North and South gates. Mitchell Canyon is a separate area to the far north of the park, with it's own trails (and a different collection of flowers than the other areas).
MDIA has a great vicinity map that shows how to get to the park. Concord is to the northwest, Walnut Creek is to the west, and Danville is to the southwest. We entered at the North Gate entrance (which is really more to the west side of the park) from Highway 680.
Exit at Treat Blvd and follow Treat Blvd east to Oak Grove Road.
Turn south on Oak Grove Road.
Continue on Oak Grove Road after crossing Ygnacio Valley Road.
Look for North Gate Road as it splits off to the left. This will take you to the park entrance.
Turn left on Summit Road at the Junction Ranger office.
The road up the mountain twists about as you climb up. Keep your eyes open for flowers along the way. At one bend in the road we found a great profusion of Yellow Monkeyflower, and at another we found a nice display of Blue Witch. Before we reached the Summit Road junction there was a wonderful display of California Poppies on the hillside (on Moses Rock Ridge) this year.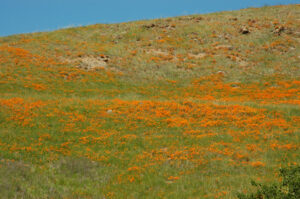 Mt Diablo Wildflowers
Please feel free to help me with the identification of any "unidentified" flowers listed here, as well as correcting any errors I may make. Michael Marchano helped point many of these out to us. Click on any photograph to see a larger image. I'll start with a few favorites, and then the "gallery". All pictures were taken with a Nikkor 18-135mm zoom lens
, or a Nikkor 60mm closeup lens.
I was excited to find a small group of Mission Bells (Checker Lily), but I had to scramble up the side of the hill and the footing was precarious, so the picture didn't come out as sharp as I would like.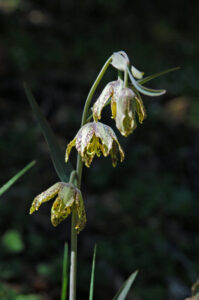 I was surprised to find as many Shooting Stars as we found, these were in the more protected area farther along the trail (near to the Mission Bells).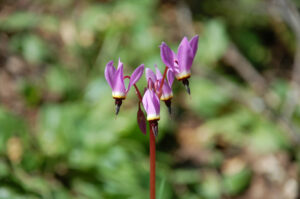 Devil's Lettuce is a smaller Fiddleneck. It is also called Bristly Fiddleneck, and you can see why from this closeup.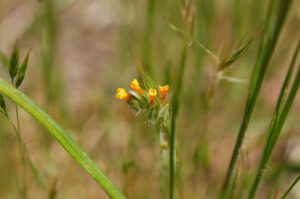 Coastal Tidytips were found in the rock outcropping (that had a great view). I'm used to seeing Tidytips with a distinct white tip on the petals, which this particular species doesn't show.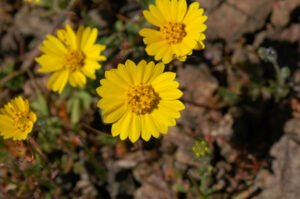 I love taking pictures of California Poppies, look at all that pollen!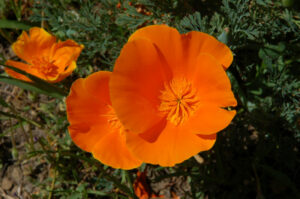 If you click on the lightbox image below you will see larger versions of the photos, and you can scroll through all of the plants (and other things) that we found on this hike. All photos are available for purchase in a variety of formats.