The road through the Modini Preserve, in the Mayacamas Mountains area of Sonoma County, is an interesting drive for wildflowers. It is an out-of-the-way area that doesn't have a lot of traffic, although you do have to keep an eye out for bicyclists who use it to train for mountain climbing. There is a good selection of wildflowers right along the road, particularly in the cut banks.
There are hiking trails in the area, but you can only use these if you are on a hike led by docents of the Audubon Canyon Ranch, or if you have attended an access orientation session. Please don't hike off the road otherwise. This is a sensitive environment with areas that are off limits, and there also is a patchwork of lands under ownership by other people. If you haven't gone through orientation, you don't know where you can go. Note that once you have gone through this orientation session you are given an excellent, detailed map of the trails and a placard to put on your dashboard, and you can hike whenever you want. It is well worth the time to take the orientation!
All of the photos in this article were taken from the roadside, which is open to everyone.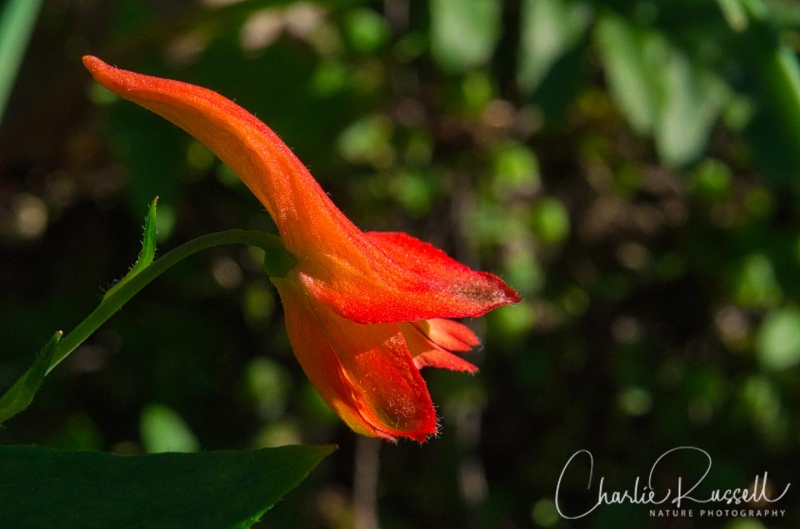 Modini Preserve Directions
Pine Flat Road runs through the middle of the Modini Preserve (formerly called the Modini Mayacamas Preserve). This starts at Highway 128 in Jimtown in the Alexander Valley, north of Calistoga, as shown on the map below. The road becomes a fairly narrow road very soon, almost one-lane. There are a number of wide spots and turnouts all along. As I mentioned, this is a popular "climb" for bicyclists, so you want to take the road slowly and keep an eye out for them (particularly as they come down the hill at a high rate of speed). We visited the area on an early March weekend, it wasn't a problem as long as you were sure to pull off the road as much as possible.
Here's a view from the road high up on the mountain. There are a lot of amazing views up there.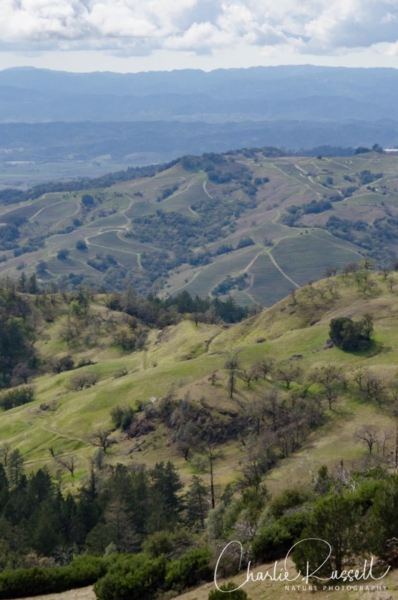 Although you can spot a lot of the flowers while driving by, I recommend taking any wide spot that is safe to pull over and look around, particularly when there the roadway cuts into the bank. Lots of times we pulled over when we saw a splash of color, and then found additional gems as we looked more closely.
Note that there are no facilities of any kind on this road. There also is a lot of poison oak. Make sure when you park that you aren't blocking a driveway.
Timing is Everything
We visited in early March and the weather was beautiful. This is the early part of the wildflower season. I'm sure that we will be visiting this area again later in the year. There were a lot of plants that were just about ready to bloom. I expect this area to be good throughout April and into May, although it will start getting hot then.
Modini Preserve Wildflowers
Here's a sample of a few of my favorites from this visit. Please feel free to correct any errors I may make.
Checker lily (aka Mission bells) is a hard flower to photograph. These were in the shade at a site near the beginning of the road.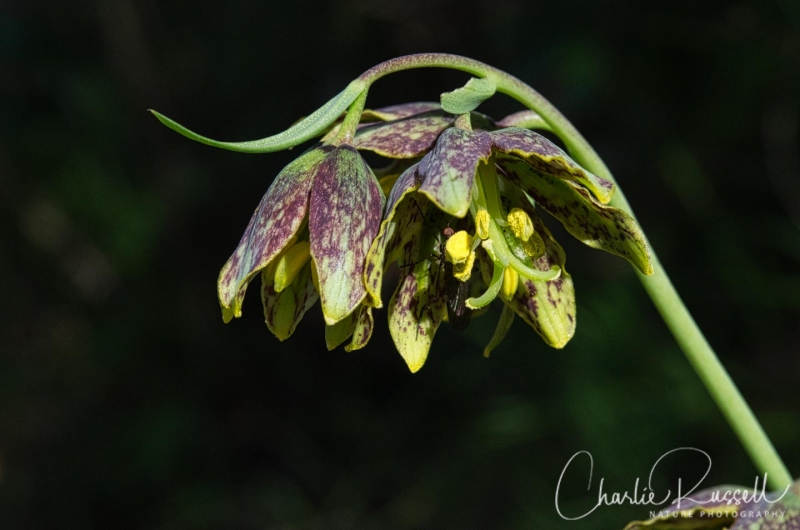 One rocky road cut had a mass of Broadleaf stonecrop plants. They weren't flowering, but the plants on the mossy rocks looked like someone had planted a succulent garden.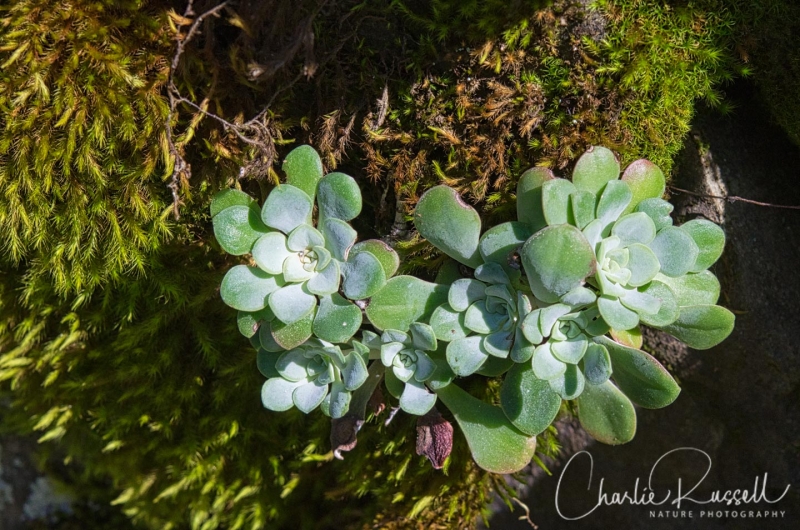 Grand hound's tongue is an interesting early season flower. The broad, fuzzy leaves are supposed to look like a dog's tongue.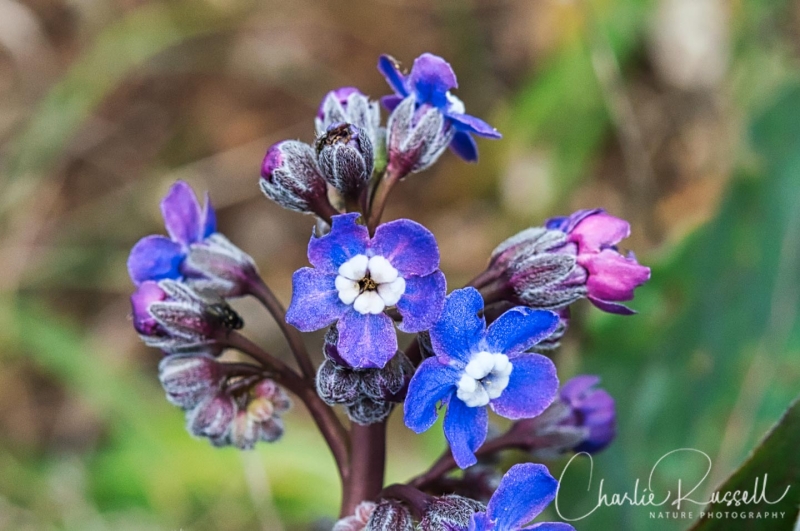 If you click on any of the photos below you will be able to scroll through larger versions of the pictures.  All photos are available for purchase in a variety of formats.
Here's a listing of what I found on this visit:
Brewer's rockcress, Boechera breweri ssp. breweri
Broadleaf stonecrop (not in flower), Sedum spathulifolium
Caraway leaved lomatium, Lomatium caruifolium
Checker lily, Fritillaria affinis
Greene's saxifrage, Micranthes californica
Hillside pea, Lathyrus vestitus var. vestitus
Little spring beauty, Claytonia exigua ssp. exigua
Littlefoot nemophila, Nemophila pedunculata
Milk maids, Cardamine californica
Miner s lettuce, Claytonia perfoliata
Mosquito bill, Primula hendersonii
Pacific hound's tongue, Cynoglossum grande
Red larkspur, Delphinium nudicaule
Warrior's plume, Pedicularis densiflora
Western buttercup, Ranunculus occidentalis var. occidentalis
The following are non-native plants that we found on the hike as well:
Mayweed, Anthemis cotula
Red stemmed filaree, Erodium cicutarium