The Willow Lake Botanical Special Interest Area is an interesting example of a California fen, a special kind of wetland that supports an interesting variety of flowering plants. This particular location is in the Lassen National Forest, just south of Lassen Volcanic National Park.
The fens that I've visited in California typically are lakes where there are extensive mats of sphagnum moss growing along the shore. These mats can be one to two feet thick, and they float on the surface of the lake. They don't contain any mineral soil, but they supply a substrate where a variety of special plants take root. Some of the interesting plants we found on this visit are Roundleaf sundew, English sundew, Marsh cinquefoil, and Rannoch rush.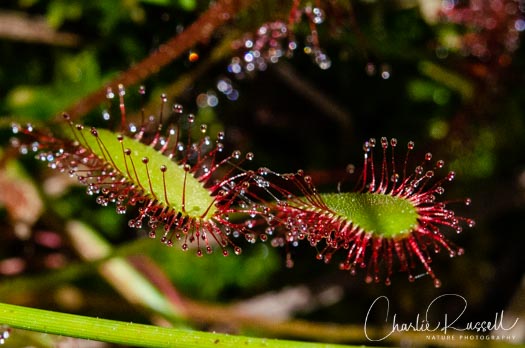 Willow Lake Botanical Special Interest Area
Here's a view of the short of Willow Lake. Looks like a nice grassy shoreline, right? But looks can be deceiving.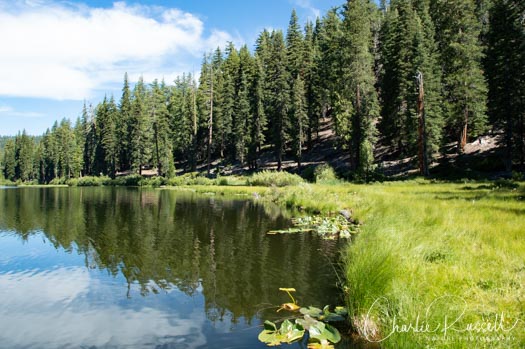 This grassy area is actually a think mat of sphagnum moss, floating on the lake, supporting a variety of interesting plants. It is possible to walk on this without sinking through (if you are careful), and it bounces like you are walking on a very wet trampoline. You want to be careful, though, to not damage the plants.
If you walk along the shoreline from the campground you will see some logs that project out into this area. This allows you to walk in (if you are careful) without getting too wet or stepping on plants. One of the larger logs takes you to a thicker spot that is a bit drier and higher, that people have used for observing plants. The areas along here support a large number of carnivorous sundew plants. Again, this is a floating mass of sphagnum moss with multiple plants growing out of it.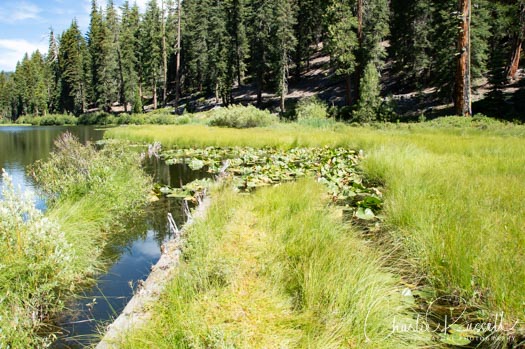 Directions
The Willow Lake Botanical Special Interest Area was hard to find because the USFS directions don't mention all of the junctions in the forest service road, and the information we found on Google Maps at the time took us to the wrong location (this is being updated). Use coordinates 40.400114, -121.348728 in Google Maps to find this location.
From Highway 36 at the north end of Chester, California, look for Feather River Drive, which is County Road 318, on the opposite side of the street from the Pizza Factory. There may (or may not) be a sign for Lassen Volcanic National Park and Juniper Lake. After 0.7 of a mile turn left on Chester Warner Valley Road (County Road 312). At 5.5 miles there will be a "Y" in the road, take the left branch onto Section Old Red Bluff Rd (County Road 311). The right fork is signed for Warner Valley and Drakesbad. After about a mile, turn right on Forest Road 29N14, a gravel-surfaced road. We did not see a sign with the road number, but there was an obscure wooden sign that said "Willow Lake" at this corner. The gravel road will be slick if it has been raining – on our visit it had lots of deep ruts, but it was passable in our Honda CRV. Eventually the road turns from gravel to dirt. There are several branches in this road, in general you want to take the wider, more used option. I found that using Google Maps set to the destination coordinates helped in making decisions.
After 3.6 miles you come to a cattle grate, and you have arrived at the Willow Lake Campground. There isn't a parking lot, just find a place to pull over where you don't block a campsite.
There was one pit toilet at the campground.
There is a trail, of sorts, that leads along the shoreline. It wasn't very obvious. I suggest walking a few hundred yards along the shore, looking for some logs that lead out into the wetland.
Timing is Everything
We visited this area in early July. The road was dry, many of the plants were blooming, the temperature was in the upper 70's. Mosquitoes weren't as bad as I had expected, but they definitely were present. I would visit this any time from mid June to August, since the sundews would always be around.
The Flowers
Here's a sample of a few of my favorites from this hike.
I love finding carnivorous plants! There were two kinds of sundews at this location. Sundews trap insects in their sticky glands and can slowly wrap around their prey, digesting them. English sundew, which I've shown at the top of this article, has a CNPS rank of 2B.3 (rare in California, common elsewhere). We also found the more common Roundleaf sundew. The shot below makes me think of my favorite Muppet, "Animal".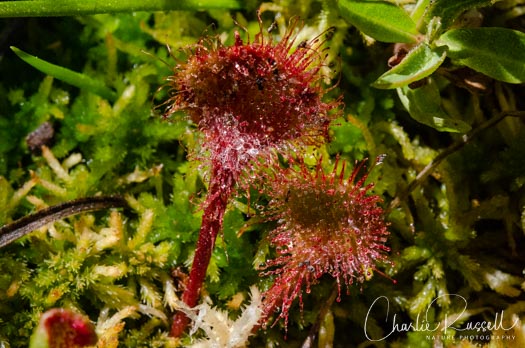 Rannoch rush can be found in the fen, but if it isn't flowering or in seed it is hard to distinguish from the other rushes there. This has a CNPS Rare Plant Rank of 2B.1. At one time it was thought to have been extirpated from California when Lake Almanor was created, but it was rediscovered here in 1988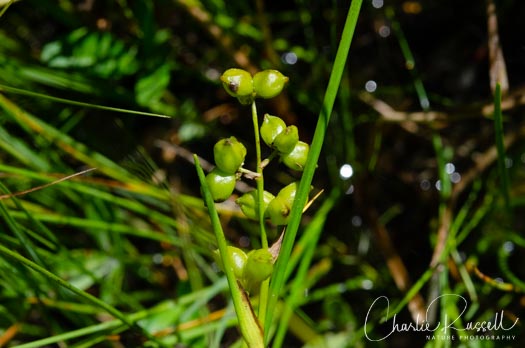 Marsh cinquefoil is another plant that likes the acidic conditions in the fen.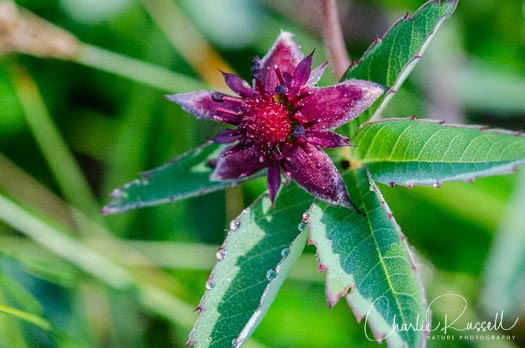 If you click on any of the photos below you will be able to scroll through larger versions of the pictures. Some of these were from the fen, some from the woods next to the lake. All photos are available for purchase in a variety of formats.
Willow Lake Botanical Special Interest Area Wildflower Listing
Here's a listing of the native plants that we found on this visit.
Broadleaf cattail,Typha latifolia
California corn lily, Veratrum californicum var. californicum
Douglas spiraea, Spiraea douglasii
English sundew, Drosera anglica. CNPS Rare Plant Rank: 2B.3
Lance leaf self heal, Prunella vulgaris var. lanceolata
Marsh cinquefoil, Comarum palustre
Primrose monkeyflower, Erythranthe primuloides
Rannoch rush, Scheuchzeria palustris. CNPS Rare Plant Rank: 2B.1
Rocky mountain pond-lily, Nuphar polysepala
Roundleaf sundew, Drosera rotundifolia
Seep monkey flower, Erythranthe guttata
Sierra rush, Juncus nevadensis
Sphagnum moss (undetermined species)
Tinker's penny,  Hypericum anagalloides
White veined wintergreen, Pyrola picta