The Grouse Lakes area has a number of good hiking trails, although it isn't the easiest area to get to. There is a good trailhead at the Grouse Ridge campground. This year we took the trail to Glacier Lake. You get a variety of environments, from exposed granite rock to newly formed meadows, so you get a wide variety of wildflowers.
This is a dry year and we weren't sure what to expect. The hike is a long one if you go all the way to Glacier Lake, with a lot of climbing on both ends. It was worth it! It was warm (in the low 80's) and there were mosquitoes near the meadows. That long hike out of the basin back to our car was exhausting, but we found a lot of flowers!
Note: Click on any photograph to see a larger image.
The Hike
This is a moderate to strenuous hike if you go all the way. You start at 7500′ elevation, and the lake is at about 7550′. Sounds easy? Well, there is around 1300 feet of elevation lost and gained during the hike, and that makes it a bit tough. And, darn it, you end the hike going uphill.  I'm not sure of the distance, different guides give different figures – this is somewhere between 7.5 and 9 miles round trip.
The drive in to the Grouse Ridge campground (the trailhead) is a rough dirt/gravel road. We made it with our Honda CRV, but you have to take it really slow. Keep your eyes open because there are several places along the drive where you can find wildflowers that you won't see later. Well, keep your eyes on the road and have a spotter with you.
The hike starts at the trailhead at the Grouse Ridge campground. You head down the hillside (northeast) on an exposed hillside, but you get into the forest fairly quickly. Lots of flowers on the hillside going down.
There are several trails that branch off at various places. Many of them have been marked clearly by signs put up by the Boy Scouts (thanks!) so you shouldn't have too much trouble. You always want to take the right hand trail towards Glacier Lake. A bit less than one mile there is a branch to Milk Lake that heads west, at about 1.7 miles there is a branch to Sawmill Lake, and shortly after that there is a branch to Sand Ridge. Always bear right.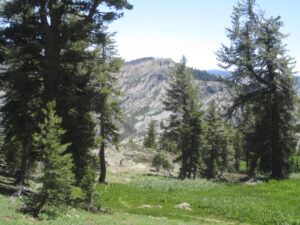 At the bottom of the ridge you have an easy trail through the forest, with occasional breaks for a meadow. Some meadows are still forming (they are half meadow, half lake), and there is one beautiful meadow (relatively dry) that was just covered with Penstemon, Monkeyflower and Lupine. Gorgeous! The only issue here is to watch out for the range cattle that are in the area (you'll hear the cow bells).
The trail meanders across the stream bed several times. At this time of the year the stream was fairly dry, so this wasn't a problem. Earlier in the year it could be a bit wet.
After the large meadow you start climbing again. First it is a gentle climb, then it starts to get a bit more serious. You start climbing up another ridge, and eventually come out of the forest into the exposed granite hillside. We were thinking about turning back at this point as the elevation and length of the hike were starting to get to us, particularly when we saw the steep exposed hillside we had to go up. The trail heads across the exposed granite and you had to pay attention so that you didn't lose the trail.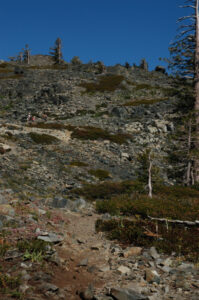 However, getting to the top of the hillside, there was a collection of flowers that we hadn't seen in the more forested part. If you want to see the widest variety of flowers, you have to make that climb. Another benefit is that you have great views up there, well worth the trip.
HOWEVER, at the crest of the ridge, given that we had gotten a late start and we had a long way to go back, we turned around. We didn't make it all the way to Glacier Lake.
Heading back down the hillside, my wife was glad that she had a pair of trekking poles.
The biggest problem with this hike was that, at the end, you have an uphill climb to the trailhead. Around 1.5 miles heading up, with the last half mile heading straight up the hillside. It was a bit strenuous.
Here's a section of a map from the USGS web site. You can get the full map by clicking on the map locator link on the right of their web site, and searching for "English Mountain". Note that there are several maps available, and the older ones might not have this particular trail marked on them. You can click on the map below to see the portion of the USGS map focusing on the trail.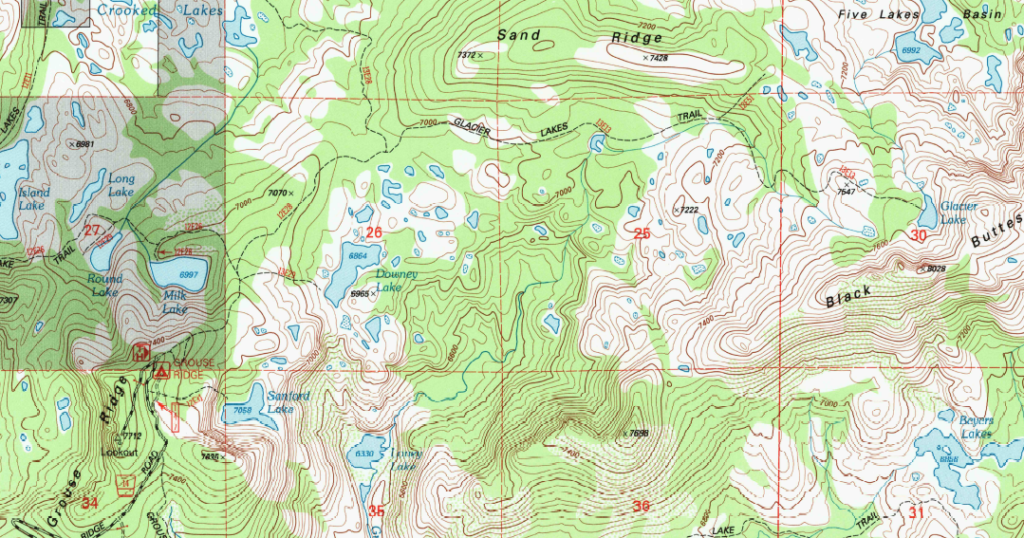 Timing is Everything
The weather was excellent, a clear sunny day with temperatures reaching the low 80's. We took this hike in the second week of July, but this was a dry year. You certainly can go earlier – there was evidence of many flowers that had bloomed earlier. The only potential problems with going earlier would be that the trail may be blocked by downed trees (it was apparent that a lot of work had been done to clear this trail) and it would be a lot wetter along the stream bed.
You could do it later, the areas around the meadows had many plants (particularly the corn lilies) that were just forming heads.
Directions
From Sacramento:
Take Exit 161 and head west on Highway 20.
After about 4.3 miles you will see Bowman Road / Forest Road 18 on the right. This heads northeast and is a paved road.
About 6.3 miles further on this road you will see Forest Route 14, which should be marked as Grouse Ridge Road. Take this heading east.
Grouse Ridge Road is a gravel/dirt road that can have a lot of rocks and ruts. You can do it with a passenger vehicle but

take it very slowly

as it is rough.
At about 5.1 miles on Grouse Ridge Road you will come to the Grouse Ridge campground. You can head into the campground and you will find a trailhead sign and parking area. You can also go past the campground and there is another parking area just up the hill.
There is a pit toilet at the campground. No water (bring your own) and no further facilities along the hike.
The Flowers
Please feel free to help me with the identification of any "unidentified" flowers listed here, as well as correcting any errors I may make. Click on any photograph to see a larger image. I'll start with a few favorites, and then the "gallery". All pictures were taken with a Nikkor 18-135mm zoom lens, or a Nikkor 60mm closeup lens.
The highlight of this hike, for us, was finding Fawn Lilies. We've never seen them before. We were lucky to find some in shady spots – there were a LOT of them around that had bloomed earlier, but were just setting seeds now. See how the flowers come out as white and yellow, and then change to purple. These are small plants, 6 to 8 inches tall generally, with flowers that are less than a half inch across.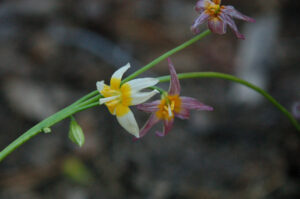 Azure Penstemon were prolific up on the exposed granite ridge, just before Glacier Lake. It's interesting how they start out yellow before the blossomes open up, then turn blue.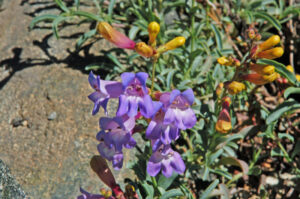 There are many small lakes in the area, many that are gradually turning into meadows. This meadow was covered with Meadow Penstemon, Monkeyflower, Lupine, and even some Small Elephant's Head (you had to look hard to find that).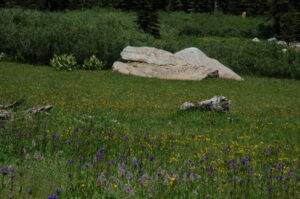 Meadow Penstemon are very similar to Whorled Penstemon – I'm calling these Meadow Penstemon because they aren't "glandular-hairy".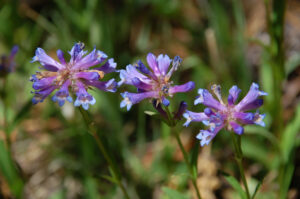 Pussypaws is one of the most common flowers in the Sierras, I think. I see it in a lot of places, and I generally don't pay a lot of attention. On THIS hike you HAD to pay attention, it was everywhere! There were open glades when hiking down that were covered with this, and practically glowing. Along the meadow where we found all the Penstemon, on the opposite side of the trail was another hillside covered with them. The cattle seemed to really enjoy them. I've never seen so many.
Pretty Face is a common lily in California – even so, it's fun to find it. There were a LOT of them on this hike, particularly near the meadows.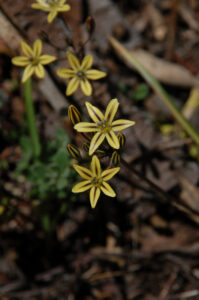 My thanks to David Silva of David Silva Photography for suggesting this area for a hike! And to Sandy Steinman of Natural History Wanderings for help with some of the flower ID's.