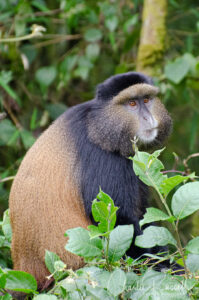 The Golden Monkeys are a beautiful, but endangered, species of old world monkey found in the Virunga volcanic mountains of Central Africa. My wife and I were able to visit them as a part of our tour to see the Mountain Gorillas in Rwanda. While the Golden Monkeys were the highlight of this hike, we also found a number of interesting African wildflowers.
Cercopithecus mitis ssp. kandti, the Golden Monkey, is listed as an endangered species by IUCN's Red List. There isn't a good estimate of how many survive in the wild, but their native habitat is very limited, and it is shrinking every year. They live in the bamboo forests that surround the volcanoes of this region.
Tourists are given the opportunity to visit the Golden Monkeys in Rwanda under very regulated circumstances. Permits are required, and they are limited. The current cost for a permit is $100.00 US, much lower than the cost of a permit to see the Mountain Gorillas. Several family groups have become habituated to to contact with people, and the hike in to find them is was much easier for us than with the gorillas. Once your guides have located a group you are limited to one hour with them. In all cases you will be accompanied by several guides, porters, and park rangers.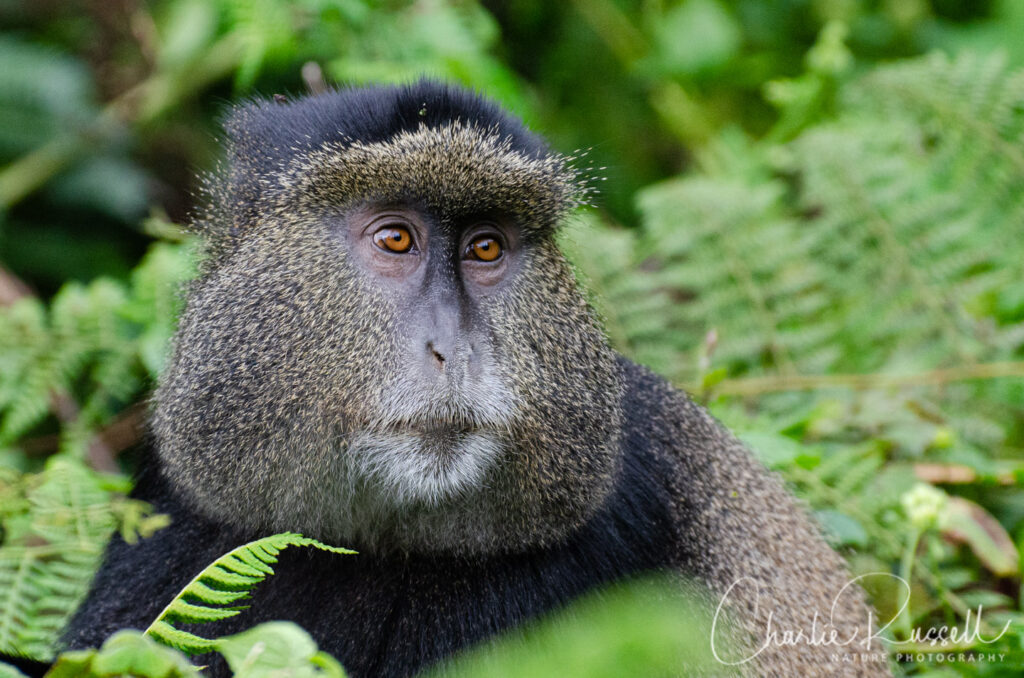 As with the mountain gorillas, it is very likely that tourism of this sort is a major reason why these animals continue to survive. Tourism brings in millions of dollars to the communities, and provides employment for many people locally. This gives them a reason to protect the monkeys and their habitat, instead of destroying the forest for additional farmland and hunting the animals for food.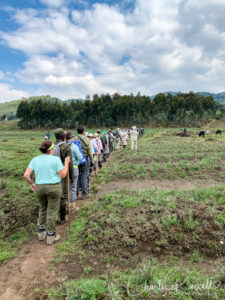 Our trek was roughly 4 miles round trip, starting at 7800′ elevation and climbing gently to about 8500′. You start off crossing farmland, following trails that jog around the different family plots. For the most part these were fields of Irish potatoes, which is the most common crop in this part of Rwanda. This was much easier than our exhausting trip to see the mountain gorillas on the prior day. This time we only hired one porter for the two of us. I think we could have done the trip without a porter, but he was really helpful on some of the parts where we had to scramble a bit through the bamboo jungle. Several people on this tour didn't get a porter, and they were wishing that they had!
It was very clear where the boundary to Volcanoes National Park started, as you can see in the picture above. The potato fields run right up to the park boundary, and when you cross into the park you are immediately immersed in the dense, lush bamboo forest. It was a bit muddy, and there were places where you had to scramble over some small obstacles, but it wasn't too difficult. Our porter and the guides pointed out places where there had been buffalo and elephants passing by (you are accompanied by armed rangers, for safety).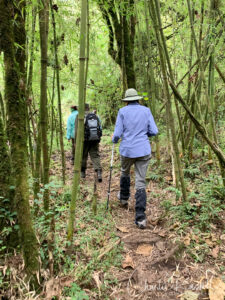 After a short hike through the bamboo forest, our guides found a group of Golden Monkeys. I'm guessing that there were about 30 individuals, although it was hard to tell. They were scampering about through the bamboo, stopping to eat bamboo shoots and then running off to another spot. There were monkeys all about us! Since there were so many of them, we didn't have to worry about getting in the way of someone else taking a photo. 
On the hike in I didn't have a lot of time to stop and take photos of the wildflowers by the path. There were quite a few interesting plants, both on the trail through the potato fields as well as in the bamboo jungle. Because we were in a group, and everyone was in a hurry to see the Golden Monkeys, I was only able to use my iPhone for quick snapshots.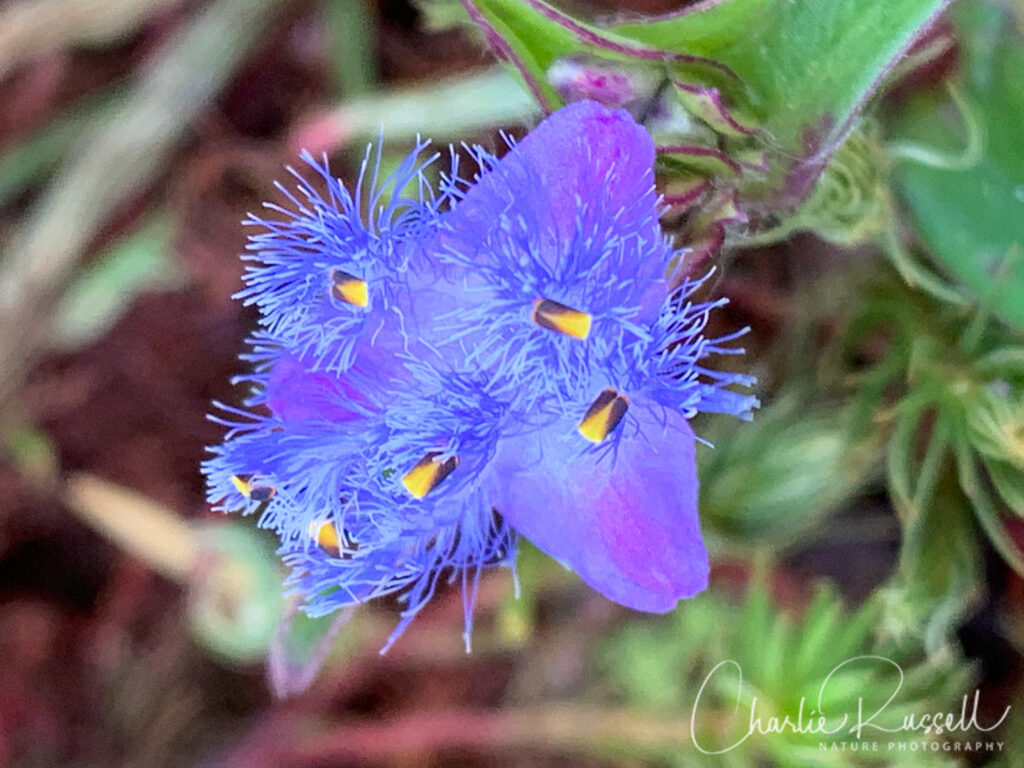 Identifying the flowering plants that we found in Rwanda has proven to be a difficult task, so I welcome any suggestions on the photos where I don't have a positive ID.
Traveling in Africa
Here's an overview of the area. You can easily see the extent of the protected portion of the volcano parks of the three countries. The dark green area is the remaining bamboo forest in the parks, the lighter colored areas surrounding it are all farmland, villages, and cities.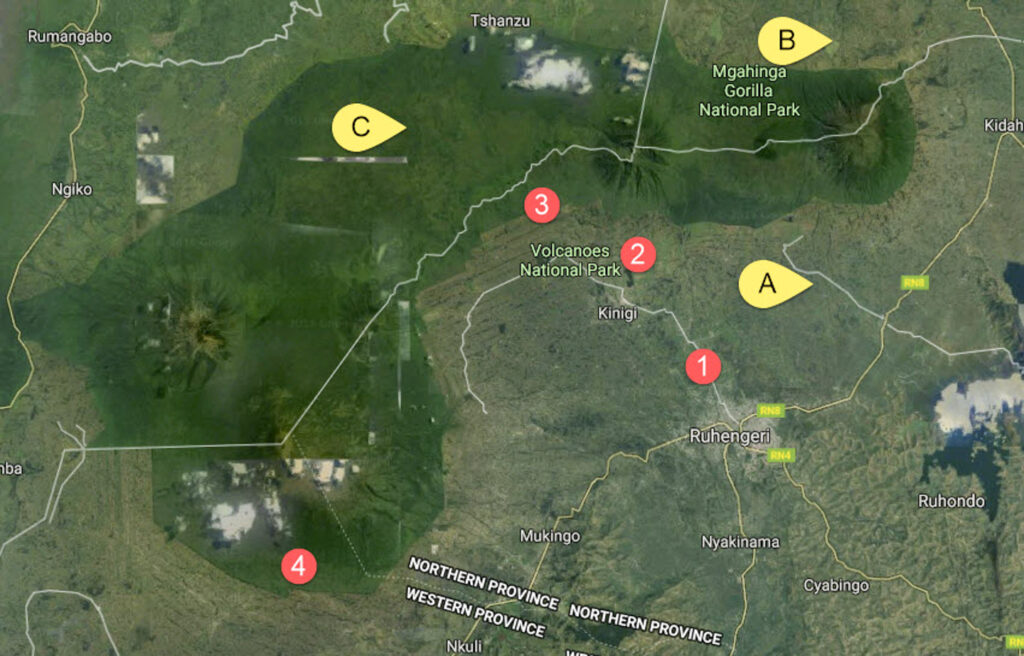 "A" is Rwanda, "B" is Uganda, and "C" is the Democratic Republic of Congo. "1" is the location of the hotel we stayed at. "2" is the park headquarters for Volcanoes National Park (Rwanda), which is where you go to be assigned to your tour group for both the Golden Monkey and Mountain Gorilla treks. "3" is the area where we hiked in to see the Golden Monkeys, which was a short drive from the park headquarters. "4" is the general area where we hiked in to see the Mountain Gorillas, which was a much longer drive (and hike). Note that there several different locations for the Mountain Gorillas, depending on which family group you visit.
If you plan on visiting Rwanda to see the mountain gorillas I recommend that you add a day to see the Golden Monkeys. You already are traveling to the area, and the permits for the monkeys are much cheaper. There are many ways that you can arrange for a tour in this area, but I believe that it is very important that you work with a travel agency that has a lot of experience with this part of Africa. We used Custom Safaris, an agency that we've used before when traveling to east Africa. I highly recommend this company, the service they provide is outstanding. Not just in the planning stages, but throughout the entire trip. Every stage of this trip was amazing, because of the wonderful care they provided while we were in Africa, and the amazing places they recommended we visit. See my other articles on this trip, which included the Mountain Gorillas of Rwanda,  the Ol Pejeta Conservancy in Kenya, and Cottar's 1920's Camp in the Maasai Mara. I won't travel to central Africa unless Custom Safaris arranges our tour!
For this trip we stayed at the Five Volcanoes Hotel in Ruhengiri (aka Musanze), which is a short distance from Volcanoes National Park. This was an excellent place to stay, with a very friendly staff, and excellent meals. They really cater to folks hiking to see the gorillas and Golden Monkeys (see my Mountain Gorillas article for more on this hotel).
If you click on lightbox image below you will be able to scroll through larger versions of the pictures. All photos are available for purchase in a variety of formats. Please note that some of these photos were taken by me, some by my wife.